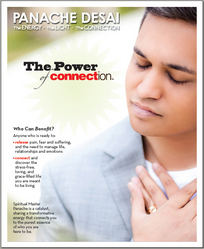 When you access The Power of Connection you become rooted in the knowing that everything you've been searching for already exists within you.
Naples, FL (PRWEB) May 21, 2010
World-renowned spiritual master Panache Desai announces The Power of Connection™ tour, his most empowering and uplifting series to date. It kicks off in Orlando, Florida, this Friday night and Saturday, May 21 and 22.
When you access The Power of Connection you become rooted in the knowing that everything you've been searching for already exists within you. Your ability to Connect to a limitless source of love, power, peace and wisdom is immediately available whenever and wherever you need it.
For the remainder of 2010, Panache is guided to tour the United States sharing this Connection through an energetic gift that translates into real-life outcomes. His inspirational message reminds all of the boundless wisdom and clarity that exists within one's heart. With this Connection you access a stress-free, loving and grace-filled life.
A contemporary visionary, Panache is a catalyst connecting you to that sacred place of stillness within your very core. For participants who attend The Power of Connection, a powerful process is birthed. The need to manage life, relationships and emotions ends. You are no longer held in the grip of pain, fear or suffering. As you move from doing into being, life unfolds in miraculous ways. In his newest video participants share how their lives have shifted since receiving The Power of Connection.
Panache offers the Power of Connection in two-hour evening Sessions and full day Accelerations. To support this process, he also shares The Practice of Presence™, tools and teachings to enhance your connection to this inner wisdom. Experience a uniquely powerful, energetic gift of Grace that many experience tangibly in their bodies and deeply within their beings. Deep-seated physical and emotional blocks are released. A connection to your deep reservoir of strength, love and power is established. A quantum leap in your mental, physical and spiritual journey awaits.
Panache is here to deliver a simple message to people everywhere regardless of race, culture, or religion. "You are loved and accepted just as you are. You are perfect regardless of the circumstances of your life. No matter what is unfolding, no matter how chaotic it may feel, you are being presented with opportunities to move into a deeper Connection within yourself and in each moment, an authentic experience of love and light."
Panache is currently scheduled to appear in:
 Orlando, FL - May 21 and 22
 St. Petersburg, FL - June 18 and 19
 Hood River, OR - July 14
 Portland, OR - July 16 and 17
 Mt. Shasta, CA - August 4
 Ashland, OR - August 6 and 7
 Kansas City, MO - September 10 and 11
 Cincinnati, OH - September 14
 Dayton, OH - September 15
 Chicago, IL - September 17 and 18
 Ann Arbor, MI - September 21
 Grand Rapids, MI - September 22
 Kalamazoo, MI - September 24 and 25
 Cave Creek, AZ - November 2
 Sedona, AZ - November 5 and 6
Additional locations are being confirmed For additional information about tour dates and locations, please contact Jan Goldsmith Desai at 239 649-7373 or check Panache's Event Schedule on his website.
Panache Desai is a living master who can activate and guide individuals into direct Connection with the Divine. He has brought the gift of spiritual awakening to thousands across the globe. Born and educated in London, he is guided to focus his public meditations, sessions and workshops across the United States. He shares a profound call to empower people from all nationalities, religious beliefs and ideologies in the understanding that we are all one. He is a vehicle of profound peace, love and light.
# # #