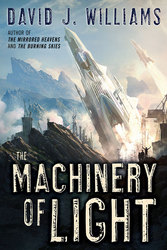 A smart, surreal vision of a future more plausible than most would imagine.
Washington, DC (PRWEB) May 25, 2010
Bantam Dell has released the finale of David J. Williams' Autumn Rain trilogy, THE MACHINERY OF LIGHT. Set a hundred years from now, Williams' books have drawn attention from beyond the science fiction community; Jamais Cascio, one of FOREIGN POLICY magazine's top 100 global thinkers, says that the Autumn Rain trilogy is "a smart, surreal vision of a future that's actually more plausible than most would imagine. Williams builds a disturbing world, mixing post-human technologies with all-too-human politics, and does so in a way that few can match."
Williams presented on the science and military strategy behind his books at both the Library of Congress and the National Academy of Sciences last year. The essay that resulted from those talks, The Future of War: U.S. National Security in the 21st Century, was hailed by futurist Eric Garland as "essential reading", and offered a comprehensive look at the ways in which developing technologies will shape American strategy across the next century.
"An action-packed and audacious look at a terrifyingly plausible future."
–L.E. Modesitt Jr., author of the Saga of Recluse series
"A 21st century NEUROMANCER. . . starts out at full throttle and accelerates all the way to the end."
–Jack Campbell, author of the Lost Fleet series
"Stellar science fiction."
–Library Journal
Williams is available for interviews on both his fiction and his writings on future warfare. He will be speaking and reading this summer in NYC, Toronto, Albany, Boston, Los Angeles, San Francisco, Portland, and Seattle; a full schedule can be found on his website.
Released in the summer of 2008, Williams' debut novel THE MIRRORED HEAVENS quickly gained momentum in the marketplace, with Spanish rights shortly thereafter, and a trade paperback released last year, just prior to sequel THE BURNING SKIES. Trilogy finale THE MACHINERY OF LIGHT has been eagerly awaited by Williams' fans. A former management consultant, David J. Williams has also written video games, and was co-writer on Vancouver, BC-based Relic Entertainment's Homeworld. Learn more at http://www.autumnrain2110.com.
###