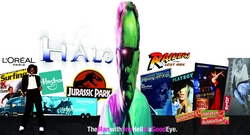 "I wanted a way to communicate on a regular basis with people I know, as well as those who just want to know more about me and the world I've come from," says Salisbury.
Frankfort, IL (PRWEB) May 25, 2010
Famed celebrity photographer and brand designer Mike Salisbury, whose work includes countless brand and entertainment icons known the world over, is now writing a blog, aptly named http://www.onehellofaneye.com.
The weekly blog features photographs and art from Salisbury's personal collection, as well as much of his own photography - some pieces never before seen - and taps into his unique, contemporary voice as a storyteller. His anecdotes explore not only his many and exotic travel adventures, his irreverent slant on brandmaking and his singular position as a Zelig of Pop Culture, but lend a compelling insider's view to his varied experiences working with a virtual "who's who" of celebrities from all walks of industry. Salisbury's celebrity portfolio crisscrosses from the motion picture to the music industry; from corporate America to the political arena; from household names in the art world to such symbols of Americana as the Big Bopper, Buddy Holly and Roy Rogers and Dale Evans.
After years of reading his stories in print or being part of enthusiastic audiences when he had shared his tales at local gatherings, friends and colleagues urged Salisbury, a natural storyteller, to "tell us more!" He frequently travels the globe doing speaking engagements for design and photography students and organizations, and will pepper his presentations with some of his best anecdotes but discovered that that, too, only led to more demand. Finally convinced, Salisbury conceived and launched http://www.onehellofaneye.com.
Salisbury, whose fame has reached its own celebrity status, is excited to share his stories in the new blog. "I wanted a way to communicate on a regular basis with people I know, as well as those who just want to know more about me and the world I've come from," explains Salisbury, who is quick to add that this is not a tell-all gossip column. "I don't mind being edgy, but I do not want to criticize or complain about other work or people because that doesn't feel good to me. The Internet is full of complainers; I don't want to add to their number."
The name of the blog is actually a shortened version of Salisbury's tagline, "The Man With One Hell of a Good Eye," a clever piece of verbal imagery originally conceived by writer Tania Presby. Current business artwork still utilizes the name (see photo).
Salisbury is recognized worldwide as one of the leading talents in American brand design. People see his artwork every day in some of the world's most recognized corporate branding and product designs for companies such as Volkswagen, Suzuki, Honda and Hasbro. He is also the man behind the imprint on a multitude of diverse products from HALO, the world's most popular video game, Rolling Stone, Surfer and Playboy magazines to O'Neill and Gotcha surf wear and Levi's 501 jeans, a brand he created.
In the motion picture industry, Salisbury helped create marketing campaigns for more than 300 movies including Aliens, Jurassic Park, Romancing The Stone, Raiders of The Lost Ark and Moulin Rouge. The "exploding boxing gloves" that introduced Rocky IV to the world is an iconic Salisbury image that drew more recognition for the film than its title, ultimately becoming the visual symbol for the film and Salisbury's most copied graphic metaphor. George Lucas is a collector of Salisbury's work and recommended him to Francis Ford Coppola, who used Salisbury's image creations in Apocalypse Now.
His music industry work includes creating the cover artwork for Michael Jackson's debut solo album, "Off the Wall," in 1979. In fact, it was Salisbury who was the creative genius behind Jackson's white glove and sparkly white socks. Salisbury also created album covers for George Harrison, James Taylor, Randy Newman, Rickie Lee Jones, Ry Cooder, Ike & Tina (for which he garnered an album design Grammy nomination), and many others. In addition, Salisbury developed branding identities for top labels Blue Note Records, RCA, United Artists Records and PolyGram.
In http://www.onehellofaneye.com, Salisbury will include stories about his experiences photographing and working with the likes of George Harrison, Michael Jackson, Francis Ford Coppola, Annie Leibovitz, Alan King, Billy Crystal, Hunter Thompson, JoBeth Williams, Andy Warhol, Ike and Tina Turner, Evel Knievel, Warren Hinckle of Ramparts Magazine, Denzel Washington, James Taylor and Carly Simon, Rickie Lee Jones, Randy Newman, Gregory Peck, Jann Wenner of Rolling Stone magazine, Lyle Lovett, Jason Freese of Green Day, Michael Douglas, Dick Dale, Tyra Banks, Ry Cooder, Alfred Hitchcock, Cheryl Tiegs, Jim Morrison, Robert F. Kennedy, Truman Capote, Captain Beefheart, Bill Cosby, Jon Voight, Liberace, Roy Rogers and Dale Evans, Von Dutch, Peter Fonda, Rudy Gernreich, Dalton Trumbo, David Carradine, Sly Stone, Sylvester Stallone, George Burns, Brooke Shields, Gene Kelly, Danny Kaye, Ed Ruscha, Richie Valens, Big Bopper, Buddy Holly and George Hamilton.
To view the blog, which Salisbury plans to update weekly, visit http://www.onehellofaneye.com.
For more information or to schedule an interview with Salisbury, visit http://www.mikesalisbury.net or call 310-526-6081.
About Mike Salisbury:
Salisbury has taught design, advertising, illustration and photography at UCLA, Otis Art Institute and The Art Center. He is a contributing editor, writer and photographer for Forbes, Men's Journal, and other magazines; his photography has additionally appeared in Vogue, Esquire, Newsweek, and many other publications. His signature writing style can be found in countless articles about his own work, as well as the chronicling of his adventures all over the world--surfing safaris to Fiji and Nicaragua, motorcycle treks circumnavigating Alaska, dirt biking across Peru from the Pacific over the Andes to Machu Picchu, sport bike racing from Milan to Corsica and Sardinia, off-roading Baja and into the Brazilian Amazon from Bolivia; jet skiing around the Florida Keys, into the Grand Canyon and across the Gulf Stream from Miami to Bimini.
Salisbury has photographs in the permanent collection of the Museum of Modern Art in New York; his design work is in the Library of Congress, the National Archives and the Smithsonian. He has been invited to speak across the U.S., Europe and South America. His photography and graphic work have been featured in museum shows worldwide.
###