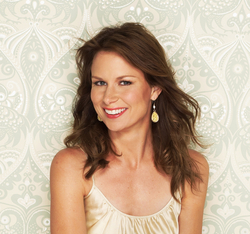 Our goal is to connect exceptional celebrity and other emerging artists with collectors and brands looking for fresh and expressive ideas, and ultimately with people around the globe who appreciate ingenious, modern, contemporary fine art
Beverly Hills, CA (PRWEB) May 25, 2010
MAXIMILLIAN GALLERY, representing many ingenious, emerging, contemporary fine artists in Los Angeles, New York and around the world, is launching its first-of-its kind art licensing business with the signing of actress and artist Mary Lynn Rajskub on a worldwide and exclusive basis. Rajskub is best known for her role opposite Kiefer Sutherland in the runaway hit TV series "24."
"I'm thrilled to be represented by MAXIMILLIAN GALLERY, which is so inventive and expert in the business side of art," said Mary Lynn Rajskub. "MAXIMILLIAN really knows and cares about art and is identifying licensing opportunities for my artwork, which opens up new possibilities for the heart of my creations to be shared with multitudes of people around the world."
Before discovering her talent for performing arts, Rajskub studied painting at the prestigious San Francisco Art Institute and earned a Bachelors Degree in Fine Arts. An avid and prolific painter, Rajskub often exhibits her work at art shows and art auctions. She has won numerous awards for her work and has a faithful base of collectors. Her artwork has been featured in SF Weekly, the Los Angeles Times, LA Weekly, and most recently in People and at her solo art show at the Ebell in Los Angeles– generating skyrocketing sales nationwide. Her colorful, expressionistic paintings, primarily symbolizing meditations about joy, are sought for their originality and whimsical imagination and are now part of the most illustrious art collections.
In addition to Rajskub's work, MAXIMILLIAN GALLERY is beginning to represent a wide array of creative intellectual property owners such as painters, sculptors, photographers, and illustrators for art licensing. Whether licensing creative products for home décor, apparel, giftware, stationery, textiles, or publishing, MAXIMILLIAN works with clients to create personally tailored licensing programs. Devoted to bringing cutting-edge art to a broader audience, MAXIMILLIAN is defining new paths for art to be used in high-quality products for home and office.
MAXIMILLIAN founder and CEO Caradoc Ehrenhalt commented, "Our highly talented artists such as Mary Lynn have the power to enrich our world and enhance our personal space on so many meaningful levels. Our goal is to connect exceptional celebrity and other emerging artists with collectors and brands looking for fresh and expressive ideas, and ultimately with people around the globe who appreciate ingenious, modern, contemporary fine art in affordable ways. Nothing should stop consumers from being surrounded with the work of today's best emerging artists."
Ehrenhalt's business background in global product marketing and promotions is combined with a lifetime immersed in contemporary art. In addition to being a passionate art collector and patron and growing up with artist parents, Ehrenhalt learned about evaluating and appreciating art from his grandmother, who founded one of the most successful and important fine art galleries, the Esther Robles Gallery, and whose archives are housed at the Smithsonian Institution's Archives of American Art. On the business front, he possesses more than 20 years' experience in marketing, licensing, product placement, Internet marketing and consumer products. Prior to launching MAXIMILLIAN GALLERY, Ehrenhalt was head of New Revenue Models at the Fortune 500 company Avery Dennison.
About Mary Lynn Rajskub
Besides her role as computer genius Chloe O'Brian on "24," Rajskub appeared in the acclaimed film Julie & Julia (2009), where she played Helen, the best friend to Amy Adams' character Julie. Previously, Rajskub appeared in several films, including Magnolia (1999) and Legally Blonde 2: Red White & Blonde (2003). She played opposite Harrison Ford in Firewall (2006) and in the lead role Pam in the Academy-Award winning Little Miss Sunshine (2006). She is also an accomplished contemporary artist.
About MAXIMILLIAN GALLERY
MAXIMILLIAN GALLERY makes connections between celebrity and emerging modern, contemporary artists, manufacturers, retailers and consumers desiring more meaningful and cutting-edge art. Offering art licensing for home furnishings and décor, housewares, apparel and accessories, gifts, novelties, stationery and paper goods, textiles, toys, publishing and more, MAXIMILLIAN brings artists' work to the world. MAXIMILLIAN meets clients' goals with personally tailored licensing programs and avid artist representation for both sales and licensing. For more information on MAXIMILLIAN GALLERY visit http://www.maximilliangallery.com, email info@maximilliangallery.com or call 310-430-2558.
Media Contact:
Michael Saltzman
Saltzman Communications
310 271 5789
Michael(at)Saltzmanpr(dot)com
# # #