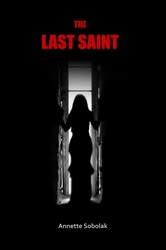 "The best kind of horror...is the type that's real."
San Diego, CA (PRWEB) May 20, 2010
Fate has a way of reminding you who's in charge of your life. And it certainly isn't you.
That's what Mariella DiDomizio discovers in Annette Sobolak's engrossing new novel, "The Last Saint". After spending her entire childhood fighting her father's claim that she was born in evil, Mariella thought she had structured the perfect life with the perfect husband and perfect children. One night, when her husband Dominic comes home covered in blood, Mariella's life changes forever.
"The Last Saint" whets the thriller reader's appetite as they experience a seemingly perfect housewife come apart at the seams to reveal a psychologically disturbing core. Finally accepting her doomed fate, Mariella starts down a path of self-destruction and is determined to take her family down with her.
Annette's work invites readers to indulge their secret obsessions with the dark and morbid. "The best kind of horror," she says, "is the type that's real. That sweet, polite neighbor who waves to you every morning…can actually harbor murderous tendencies. That Girl Scout who sold you cookies…might be the kid who shoots up an entire school."
And while no one wishes for any of those heinous incidents to take place, "The Last Saint" will feed the reader's insatiable craving for the morbid with one simple claim: You can't control your destiny!
Annette currently resides in San Diego, California, with her dog, Jack. She majored in historical studies and English literature at The Richard Stockton College of New Jersey. She is currently working on her next book. You can find "The Last Saint" on http://www.amazon.com and http://www.barnesandnoble.com.
ISBN 978-0-557-39223-0
###