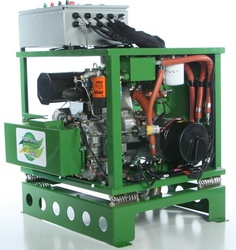 Buffalo, NY (PRWEB) May 21, 2010 —
Power Drives, Inc. announced today that the United States Patent and Trademark Office has issued a patent for the Diesel Warming System Auxiliary Power Unit (DWS-APU).
In compliance with the EPA's SmartWay program, the DWS-APU eliminates the necessity for locomotives to idle in cold weather. The DWS-APU circulates heated water or coolant through a locomotive engine block and cooling system using an electric water pump powered by an alternator that is driven by a small EPA-certified onboard diesel engine to keep the entire locomotive's coolant system warm during shutdown. The DWS-APU will maintain a desirable temperature in the most extreme weather conditions. An optional electric oil pump can be added to heat engine oil by circulating it through the system.
The modular frame and cage design protects components and facilitates easy maintenance, and its compact size allows it to fit in a variety of locations on a locomotive.
In addition to lower fuel consumption, the DWS-APU produces a dramatic reduction in nitrogen oxides (NOx) and particulate matter (PM) emissions, and reduces engine wear and carbon build-up. The Diesel Warming System is also available as an electric model, which uses standard 120VAC and 5AMP of power from an external power source, thus, eliminating safety issues, complicated infrastructure and inflated electric bills due to high amp, 3-phase power alternatives.
About Power Drives, Inc.
Founded in 1946 as a power transmission component distributor, Power Drives' capabilities now include the distribution and manufacture of hydraulic, pneumatic, electric/electromechanical, fluid conveyance components for the locomotive, heavy-duty truck, diesel engine, truck lift, construction, wind power and industrial markets worldwide.
Power Drives, Inc. is headquartered in Buffalo, NY.
###