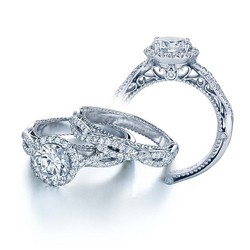 New York, NY (PRWEB) May 24, 2010
Verragio is proud to announce the arrival of the Venetian Collection, a line of engagement rings and wedding bands with a flair for style and the perfect combination of old-world craftsmanship and cutting edge technology. Featuring Verragio's signature crown shaped bezel beneath the center stone and meticulous attention to detail, each engagement ring within the Venetian Collection puts an emphasis on accentuating the side profile.
The Venetian Collection will be available for viewing this week with the relaunch of Verragio.com.
Verragio.com aims to provide visitors with an ease of use and a sneak peek into the new styles associated with each of Verragio's engagement ring and wedding band collections. The redesign incorporates new colors, crisp photography to show discreet design details, and video to show a 360 view of the engagement rings.
"With multiple product views and new product selections including the Venetian Collection," says Barry Verragio, "the online experience is intended to be the closest thing possible to actually seeing the engagement ring or wedding band live in a retail establishment."
In conjunction with the relaunch of the company's website, Verragio is the first jewelry manufacturer ever to advertise on Pandora.com. With an annual campaign budget of $250K, Verragio will specifically target listeners based on age, gender and geographical region. "The opportunity for Verragio through Pandora.com is tremendous," says Barry Verragio. "Between audio and visual presentations, the user will constantly be exposed to Verragio's engagement ring collections throughout the entire listening process."
About Verragio:
Verragio specializes in engagement rings and wedding bands of the highest quality and beauty. Verragio is the creator of the Lumino Setting, a revolutionary setting technique that reveals all sides of a diamond, opening up every facet to light. Available in platinum, gold and palladium, Verragio offers designer engagement rings, wedding bands, men's wedding bands and eternity bands that can be seen only in carefully selected, authorized retail establishments. Verragio has been featured in fashion publications such as InStyle, Elle, Marie Claire and W magazine as well as trade publications such as INSTORE, INDESIGN and JQ.
###