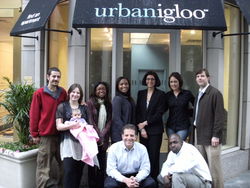 The retail location will be a game-changer for both the brand and customer experience
Washington, DC (PRWEB) May 21, 2010
Urban Igloo, the premier Washington DC apartment finder service, today opened its first retail location, at 1808 Eye Street. The street-level space accommodates walk-in traffic from apartment hunters, many of whom are new to DC, and from rental owners eager to fill their properties.
The opening occurs just months after the U.S. apartment vacancy rate hit its highest level in 23 years, and amidst a generally tumultuous rental market. Urban Igloo has capitalized on this trend by helping DC landlords and condo owners fill their properties, and by helping DC renters narrow their choices quickly. Q1 was the company's best quarter yet, signing three times more leases than in any previous quarter. "Demand over the last few months has taken off due to the efficiency of our service…and the busy season is just starting," said Rick Gersten, founder and managing partner. "Going retail is the last piece of the puzzle." The company expects to open other offices in DC, Virginia, and Maryland.
The new office is strategically located directly across from the Farragut West metro station, and just blocks from Farragut North. This proximity to the orange, blue, and red lines – combined with a large office-front awning and ample signage – gives Urban Igloo daily exposure to thousands of commuters from its top DC area neighborhoods, including Arlington, Alexandria, Foggy Bottom, Dupont Circle and Logan Circle, Cathedral Heights, Woodley Park and Cleveland Park, upper Northwest, and Bethesda.
Last month, more than 5,000 renters searched for DC apartments on Urban Igloo's website, a four-fold increase over just a few months ago. "We've had tremendous success growing our business through innovative marketing, our website, and word of mouth," said Gersten. "But there is huge human component to this process. The retail location will be a game-changer for both the brand and customer experience."
Apartment hunters meet one-on-one with a leasing agent, share their target neighborhoods and price range, and set up a tour to view properties that match their needs. Urban Igloo's research shows that qualified renters who use its service find a place to live within five hours.
"With the growing number of options renters have to choose from in the District, I can see the benefits of one-stop shopping for busy professionals" said Grant Montgomery, vice president at Delta Associates and a leading DC apartment market expert. "Urban Igloo's street front location should only improve the user experience for renters looking to simplify their apartment search. Nothing beats the one-on-one interactions afforded by personal contact when choosing a place to live."
Condo owners are also taking advantage of the street location, meeting with Urban Igloo staff to add their properties to its website and gain immediate exposure to thousands of DC area renters each month.
In addition to launching the retail location, Urban Igloo is actively hiring leasing agents to handle growing demand.
About Urban Igloo LLC:
Urban Igloo is the premier Washington DC area apartment finder service. Founded and managed by Rick Gersten, a local entrepreneur, real estate broker and developer, Urban Igloo takes the guesswork out of renting in the DC area.
For more information on Urban Igloo, please visit http://www.urbanigloo.com or call 877.IGLOODC (877.445.6632).
###