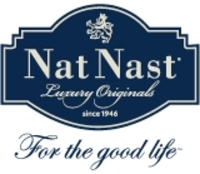 It is an honor to partner with Nat Nast and we thank them for doing their part to assist this generation of wounded warriors
New York, NY (Vocus) May 21, 2010
Nat Nast, the iconic American men's sportswear brand has joined forces with the Wounded Warrior Project (WWP), a non-profit organization whose mission is to honor and empower wounded warriors. The company will design and market the "American Heroes" shirt collection, paying tribute to the courage and sacrifice of injured veterans.
The organizations also plan to collaborate on select events and promotions that will enhance awareness and help raise much-needed funding to support the WWP's mission. A portion of the proceeds from the sale of WWP-related items will be donated by Nat Nast to WWP.
"It is an honor to partner with Nat Nast and we thank them for doing their part to assist this generation of wounded warriors," stated Wounded Warrior Project Chief Development Officer Adam Silva.
The American Heroes collection will consist of a variety of styles of printed and embroidered silk, cotton and knit shirts. It will be available in the first quarter of 2011 at select department and specialty stores, luxury resorts, casinos, e-commerce sites and military sales outlets.
"We wanted to align ourselves with an exceptional cause that would resonate with our customers," said Lawrence C. DeParis, President & CEO of Nat Nast. "As an American brand inspired by men who live life to the fullest, we are keenly aware of how dependent our way of life is on those who so bravely defend our precious freedom. Wounded Warrior Project does amazing work and we are honored and proud to do our part in supporting our injured veterans through this noble cause", DeParis added.
Over 37,000 of our nation's armed forces have been physically wounded during the current military conflicts. Hundreds of thousands more are estimated to be recovering from invisible wounds of war, including post traumatic stress disorder, major depression, and traumatic brain injury (TBI). WWP assists wounded warriors and their families through a holistic approach to their recovery, providing programs and services to aid their physical rehabilitation and improve their mental health and well-being. Whether through caregiver retreats, combat stress programs, career and education services or adaptive sporting opportunities, WWP empowers warriors with the tools essential to not just survive their injuries but to thrive and achieve personal and professional success.
ABOUT NAT NAST
Nat Nast is an authentic American men's sportswear brand, renowned for its attention to detail, exceptional quality and unique sense of style. The collection is designed "For the Good Life™", inspired by men who live life to the fullest.
Originally founded in 1946 by Nat Nast in Kansas City, the company developed the first bowling shirt, which became an icon of vintage Americana. Relaunched in 2000 by his daughters, Nat Nast Luxury Originals offers a full collection of sportswear epitomizing casual elegance.
Among the company's more distinctive offerings are its silk paneled shirts, an acclaimed modern interpretation of the original bowling shirt, and its "American Storyteller" collection of limited edition embroidered shirts celebrating unique cultural experiences including such diverse themes as the history of jazz, iconic American baseball stadiums and the invention of the margarita.
Nat Nast is distributed through Nordstrom, Saks Fifth Avenue, Von Maur and hundreds of other fine retailers, resorts and e-commerce venues throughout the United States and the Caribbean. Visit The Good Life at http://www.natnast.com.
About Wounded Warrior Project
The mission of the Wounded Warrior Project is to honor and empower wounded warriors. Its purpose is to raise awareness and to enlist the public's aid for the needs of severely injured service members, to help severely injured men and women aid and assist each other, and to provide unique, direct programs and services to meet their needs. WWP is a national, nonpartisan organization headquartered in Jacksonville, FL. To get involved and learn more, visit http://www.woundedwarriorproject.org.
Press Contacts:
Betsy Baron
Marketing Consultant
Nat Nast
bbaron(at)natnast(dot)com
1.203.820.5560
Ayla Hay
Director, PR
Wounded Warrior Project
ahay(at)woundedwarriorproject(dot)org
1.904.296.7350
# # #