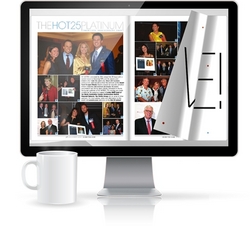 Brea, Calif. (PRWEB) May 25, 2010
WebPublished today announced the launch of the first rich expressive digital self-publishing platform (DBook) that allows corporations, educational institutions, publishers and writers to easily upload and embed rich expressive special effects onto their plain publications in minutes.
Publishers or corporations are now facing the new challenge of conveying their content for digital replica format either to deliver via PC, IP TV, Tablet PC, Mobile, eReader or iPad. These devices are getting more powerful in conveying the rich expressive effects .
WebPublished's rich expressive digital publishing solution is the first digital publishing technology to be released in this industry. In a few minutes, one will be able to transform a plain publication into a dynamic publication with rich media and special effects; also including video, slide presentation, animation, voice recording, pop-up on any ads and/or electronic pen writings. All this can be done in minutes with the new DBook solution.
Publishers now have an easy-to-use self-publishing platform that will bring their digital content alive at a fraction of the price of a digital publishing job.
"Unless it's simple and affordable, the valuable digital assets never reach to readers. We provide our solution to content owners who want to pay less, but expect high quality for their digital needs," said Charles Kim, WebPublished founder and CEO.
WebPublished DBook Features:

hosted self-publishing platform (SaaS): online publishing and embedding tools
XML implemented data format
customizable menu bar
programmable source editing
free drawing tools
electronic pen writings
AutoPlay function stores all events and play automatically (for online course or manual)
voice recording (for online course)
26 slideshow effects
highlighting and pop up effects
partial zooming effects
automatic hyperlinks extraction
SEO friendly
About WebPublished
WebPublished is a global leader in providing rich expressive digital publishing technology to meet the growing demands of corporations, educational institutions, publishers and writers around the world. WebPublished provides an easy-to-use, self-publishing platform to time and cost sensitive content producers who want to pay less but expect high quality on their digital content.
Free trial and demo available online
WebPublished DBook is a completely hosted, self-publishing solution. Users can create rich expressive digital publications in minutes.
For an online demo of WebPublished DBook and Feature's Overview or to sign up for a free trial, visit http://www.webpublished.com.
For more information, contact:
Brandon Hayden
WebPublished
(714)447-3401
###