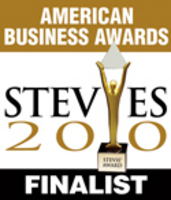 Herndon, VA (PRWEB) May 21, 2010
Apptix (OSE: APP), the leading provider of hosted Microsoft Exchange email, Microsoft SharePoint, and business VoIP services for organizations worldwide, announced today it has been named a finalist in five 2010 American Business Award (Stevie Award®) categories including: Finance Executive of the Year for Apptix CFO Chris Mack; Product Development/Management Department of the Year; Customer Service Department of the Year; Turnaround Executive of the Year for Apptix President & CEO Dave Ehrhardt; and Business Turnaround of the Year.
The American Business Awards are the nation's premier business awards program. All organizations operating in the U.S.A. are eligible to submit entries – public and private, for-profit and non-profit, large and small. More than 2,700 entries from organizations of all sizes and in virtually every industry were submitted for consideration in more than 40 categories.
"I am thrilled that our entire team's effort to transform Apptix has been recognized with finalist designation in five categories for the 2010 Stevie Awards," says Dave Ehrhardt, President & CEO of Apptix. "We successfully reached profitability and achieved market leadership by completely rebuilding Apptix over the last two years from the ground up, touching every aspect of our business as evidenced through our recognition in multiple departmental categories."
Over the last two years, Apptix has transformed itself through a series of key initiatives including: the integration of previously acquired businesses; technology platform consolidation, standardization, and upgrade; expansion of its product and service portfolio; and the establishment of a culture of operational and service excellence. As a result, Apptix is now cash flow profitable after losing $2 million per quarter at the end of 2007 to generating $1 million per quarter by the end of 2009, a successful move into new market spaces including signing the industry's largest ever customer contract, and has become a clear market leader well positioned for ongoing success.
Members of the Awards' Board of Distinguished Judges & Advisors and specialized final judging committees will select Stevie Award winners from among Finalists in final judging that will continue through May 28. Finalists were chosen by business professionals nationwide during preliminary judging in April and May.
This year's Stevie Award winners will be announced during the annual gala on Monday, June 21 at the Marriott Marquis Hotel in New York City. More than six-hundred executives from across the U.S.A. are expected to attend. The event will benefit Oceana (oceana.org), the largest international organization focused on ocean conservation. The ceremonies will be broadcast on radio nationwide by the Business TalkRadio Network.
For a complete list of winners or more information about the program and event, visit: http://www.stevieawards.com/aba.
About The Stevie Awards
Stevie Awards are conferred in four programs: The American Business Awards, The International Business Awards, the Stevie Awards for Women in Business, and the Stevie Awards for Sales & Customer Service. Honoring organizations of all types and sizes and the people behind them, the Stevies recognize outstanding performances in the workplace worldwide. Learn more about The Stevie Awards at http://www.stevieawards.com.
Sponsors and partners of The 2010 American Business Awards include Infogroup, Netezza, CIGNA, Citrix Online, Epic Advertising, High Performance Technologies Inc., imagistic, John Hancock, LifeLock, Lionbridge, PetRays, RCN, and SoftPro.
About Apptix
Headquartered in Herndon, Virginia, Apptix (OSE: APP) is the leading provider of business-class hosted email, voice, and collaboration services for 200,000 users worldwide. A pioneer in the hosted services space, Apptix and its MailStreet subsidiary offer a variety of communications and IT services including: Microsoft Exchange plus Outlook Voice Access; VoIP; Microsoft SharePoint; Web conferencing and secure Instant Message and Presence via Microsoft Office Communications Server; Online Backup by EMC's Mozy; mobile email (including BlackBerry, Palm, Android, Windows Mobile, and iPhone); compliant archiving; and a Web presence solution that includes domain registration, DNS hosting, and Website hosting. Apptix is a Microsoft Gold Certified Partner for Hosting and Application Services. Apptix is recognized as one of the CRN 2009 & 2008 Fast Growth 100, Deloitte's 2009 & 2008 North American Technology Fast 500, Software Magazine's 2009 & 2008 Software 500, Washington Business Journal 2009 & 2008 Fastest Growing Companies, as a finalist in the Customer Service and Product Departments categories for the 2009 American Business Awards (Stevie Awards), and as a 2009 Microsoft Worldwide Partner Conference Awards finalist in the Unified Communications Solutions category. For more information, visit http://www.apptix.com or follow at http://www.twitter.com/apptix.
Product or service names mentioned herein may be the trademarks of their respective owners.
###