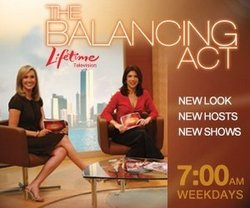 With Absolute Miracle® Cream and its natural, clinically proven ingredients, you are going to see results.
Pompano Beach, FL (PRWEB) May 21, 2010
The Balancing Act just might have a secret weapon – against wrinkles -- up its sleeve. Make sure you tune in as we team up with Absolute Miracle® Cream airing on Lifetime Television, Monday May 24th, at 7:00am (ET/PT).
If you want beautifully radiant skin, naturally, at ANY age…the team at The Balancing Act has learned that your secret weapon may well be powerful peptides. Our friends at Absolute Miracle® Cream explain to viewers how they use peptides to help support younger looking and feeling skin.
Peptides are amino acid fragments that trigger your skin to produce more collagen. That's how those unwanted wrinkles form -- when we lose collagen. So, the greater amount of collagen you have, the fewer wrinkles you may have.
Powerful peptides work to help the body build collagen in the skin, increase skin firmness, even skin tone, and may actually help repair stretch marks.
With Absolute Miracle® Cream and its natural, clinically proven ingredients, you are going to see results.
Absolute Miracle® Cream talks about how they are a natural skincare line that's not only passionate about promoting and maintaining beautiful skin—they do this while being environmentally and socially responsible.
Absolute Miracle® Cream is cruelty free and was awarded a Certificate of Appreciation from PETA: People for the Ethical Treatment of Animals. With Absolute Miracle® Cream there's no animal testing, no harsh chemical ingredients, no artificial colors or fragrances—and it's packaged ready to recycle.
For more information check out http://www.absolutemiraclecream.com.
About The Balancing Act: The TV show airs on Lifetime Television at 7:00am (ET/PT) -- and is America's premier morning show that's about women, for women, and trusted by women. Celebrating life and all there is to accomplish, The Balancing Act inspires and empowers with entertaining and educational segments, placing women in the best position to achieve success in every area of their lives. For information or to view a show, visit http://www.TheBalancingAct.com. For the show's newsletter go to http://www.thebalancingact.com/join.php. For more details about The Balancing Act, LLC please visit parent company O2 Media Inc. at http://www.o2mediainc.com. For Media-Marketing Relations, contact Limor Windt, limor(at)o2mediainc(dot)com, (954) 691-1102.
Follow The Balancing Act on Facebook, Twitter, and Youtube!
# # #