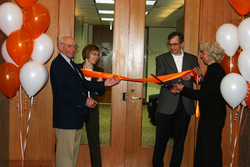 "We're excited about our new space," said CEO Cami Gearhart, "but we also keep reminding ourselves that our vision is to be the best IRB in the world, not the biggest."
Seattle, WA (PRWEB) May 24, 2010
On May 12, Quorum Review IRB held a ribbon cutting ceremony to celebrate its expansion into new office space in the Century Square building in downtown Seattle, Washington. Quorum already occupies several floors of office space downtown Seattle, maintains an office in Vancouver, B.C., supports a number of employees on the East Coast and in the Midwest and has IRB members located across Canada and the U.S..
This most recent expansion highlights Quorum's commitment to providing in-depth ethics review as well as world-class service. Quorum's new location provides the infrastructure needed to support Quorum's national and international ethics reviews. The office also is centrally located to the expertise of the research community of Seattle's academic medical centers, research institutions, biotech companies and medical centers.
Quorum's CEO adds a note of caution. "We're excited about our new space," said Cami Gearhart, "but we also keep reminding ourselves that our vision is to be the best IRB in the world, not the biggest."
ABOUT QUORUM REVIEW
Quorum Review is an independent ethics review board that is fully accredited by the Association for the Accreditation of Human Research Protection Programs (AAHRPP) and has been providing ethics review of drug and device trials since 1992. Quorum oversees research in accordance with U.S. and Canadian human research subject protection regulations, guidelines set forth by the International Committee on Harmonisation (ICH), and principles of the Belmont Report.
Quorum's best-in-class service and support includes 3 protocol board meetings a week, daily amendment board meetings, 24 hour site review, 36 hour amendment review, and a secure OnQ™ web portal for online submissions, downloads and submission status review. Quorum can review studies in the US and Canada, review federally funded studies and has a specially designated Phase I study management team.
For information about Quorum Review services, see Quorum's website at http://www.quorumreview.com.
###