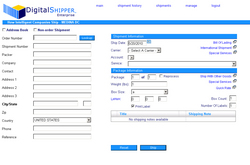 Many companies deal with project jobs where they need to ship catalogs, samples or product to a group of recipients. DigitalShipper's desktop batch shipping feature enables companies to automate this process without the added cost of customization.
St. Paul, MN (PRWEB) May 24, 2010
Data Trak today announced a new desktop batch shipping feature to be included with the current release of their DigitalShipper Multi-Carrier Shipping Software. The new feature for desktop batch shipping is designed to automate the repetitive shipping of packages with identical characteristics to many addresses.
DigitalShipper provides built-in functionality for many different shipping operations that are easy to configure and use, but maintain flexibility to allow a company to customize the process if needed. A Standard method is now available in DigitalShipper to allow for desktop batch shipping.
Desktop Batch Shipping provides companies with the ability to ship multiple shipments continuously and unattended by retrieving a group of addresses from a source such as a text file (comma delimited CSV or fixed length) or a database. DigitalShipper allows for multiple templates to be configured for various batch jobs with an intuitive interface for data mapping.
The batch feature supports processing single or multiple packages for each address record in the batch, setting package dimensions, applying carrier accessorials such as Residential Delivery, Insurance or Billing Options (i.e. Bill Recipient or Bill Third Party). The batch can process an unlimited number of addresses.
A user is able to start the batch process from a PC then continue with other warehouse duties while the DigitalShipper software generates the shipping labels. Companies are able to significantly save time and re-allocate personnel when they implement batch shipping into their operations.
"Many of our customers deal with project jobs where they need to ship catalogs, samples or product to a group of recipients," Michael Everson, President and CEO of Data Trak, stated. "DigitalShipper's desktop batch shipping feature enables our customers to automate this process without the added cost of customizing the software to perform a task that is often not profit bearing to their organization."
DigitalShipper includes these additional benefits to companies: consolidate shipments for all carriers to a single software system, integrate data exchange to retrieve ship to address information and pass back the results of shipping, automate business rules, and adopt industry standard practices.
About DigitalShipper
DigitalShipper is the most robust and versatile multi-carrier shipping software available in the market today. DigitalShipper supports domestic and international shipping for the following national small parcel carriers: UPS, FedEx, USPS and DHL. It also supports many regional carriers including Spee-Dee Delivery, Eastern Connection, OnTrac, Pitt Ohio and Prestige Delivery; and has a standard built-in module for processing pallet shipments for LTL/TL carriers. Built on Microsoft .NET Technologies, DigitalShipper delivers high performance shipping in both its Express and Enterprise versions that is fully customizable through its Plug-in Architecture, Data Wizard and SOA Web Services.
About Data Trak
Founded in 1991, Data Trak is the leading provider and integrator of shipping software for small, mid and large size companies to automate and improve efficiencies for outbound shipping and distribution.
Contacts:
Lisa Renfroe, VP of Marketing
Data Trak Technologies, Inc.
lrenfroe(at)digitalshipper(dot)com
(651) 639-0091
http://www.digitalshipper.com
Jim Roma, Senior Sales Executive
Data Trak Technologies, Inc.
sales(at)digitalshipper(dot)com
(651) 639-0091
http://www.digitalshipper.com
# # #