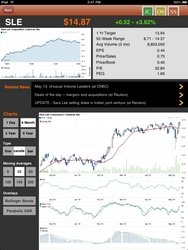 Daily Stocks is the ultimate trading iPad app
Novato, CA (PRWEB) May 21, 2010
MissingSTEP today announces Daily Stocks®, the much anticipated app for the iPad built on breakthrough technology that advances the picking process of winning trades at the S&P500. The app was designed to help identify the best daily trading candidates and opportunities, including long and short term investments.
Daily Stock's advanced software architecture computes trends in the Stock Exchange into data that can be understood by anyone, independent of experience. It replaces the inadequate stock software by filtering price and patterns on stock for further research.
Daily Stocks scans the S&P 500 Index, matches data with daily candlestick patterns to identify the safest picks and also uses the SMA spreads to highlight stocks that are oversold or overbought.
"Daily Stocks is the ultimate trading iPad app for S&P 500. The beauty is in its intelligence and simplicity; it tells you when stock is ripe for trading, and whether to go long or short," says Alp Simsir, managing director at missingSTEP.
The Daily Stocks App marks missingSTEP's first app on the popular iPad.
Media Contact:
Alp E. Simsir
email: support(at)missingstep(dot)com
phone: 1-866-331-8957
missingSTEP.com is a leading stock pick service serving swing traders and short term investors. The company specializes in investment opportunities based on real analysis and data models. The company is headquartered in Novato, California.
# # #