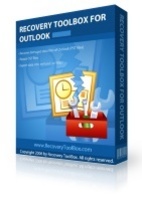 Software for a recovering a damaged Microsoft Outlook PST files.
Alexandria, VA (PRWEB) May 25, 2010
Recover Damaged Outlook Personal Store (PST) Files
Recovery Toolbox, Inc. has released Recovery Toolbox for Outlook, a powerful Windows utility that lets customers to recover damaged Microsoft Outlook files. When theirs Outlook files become corrupted, Outlook's customers risk losing valuable emails that they have received, critical emails that they have sent to colleagues and customers, contact files, theirs Outlook Calendar, meetings, notes, and many other log and support files. Recovery Toolbox for Outlook repair and restores the damaged PST files that hold theirs important information, and allows customers to use Outlook with confidence.
Recovery Toolbox for Outlook performs two additional email-related functions that make it possible to move theirs email processing to different software. The program lets people to recover damaged OST files from Microsoft Exchange. Once these files are restored, they can continue to use Microsoft Exchange. Alternatively, system administrators can use the application to convert all of corporate Exchange files to Microsoft Outlook PST files, and use Outlook instead of Exchange as clients email client.
If computer user wish to move user's email processing from Outlook to another email client, the software can convert clients Outlook PST files into standard files that can be imported into many popular Windows email applications. User can store message files in EML format for use in Outlook Express and many other email clients. Contact information can be stored in VCF format, and imported into most Personal Information Managers (PIMs). Notes can be saved in standard TXT format, and used in any text editor or word processor.
Recovery ToolBox for Outlook maintains the structure of the original folders that it restores. All attachments remain with the emails that they were originally attached to. With its 32TB capacity, there is virtually no limit to the amount of data that client can recover from damaged Outlook files. The software builds files until a 1GB limit is reached, and then simply creates additional files to handle the additional data.
Recovery ToolBox for Outlook can process Outlook files that seem to be beyond recovery, and turn them into standard, usable information.
Recovery Toolbox for Outlook runs under Windows 98/ME/NT4/2000/XP/2003/Vista and works with Outlook 97/98/2000/XP/XP-SP2/2003/2007. A personal license for non-commercial use costs $49.90(US) for a single-user license. A business license, for use in companies, government agencies, and other enterprises, costs $74.90 for a single-user license. User can download a trial version of Recovery Toolbox for Outlook from http://www.recoverytoolbox.com/outlook.html. For more information, contact Recovery Toolbox, 901 N. Pitt Street, Suite 325, Alexandria, VA 22314 USA.
Free download software from here.
# # #