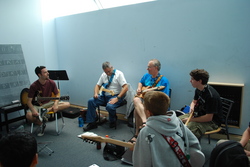 I think [National Guitar Workshop/DayJams] is doing great things for musicians of all ages. It warmed my heart to meet so many men and women who were so passionate about getting better at guitar playing and who want to keep learning. ~Buddy Guy
Litchfield, CT (PRWEB) May 25, 2010
The National Guitar Workshop & DayJams have been the beneficiaries of a generous sum of scholarship money to be awarded to deserving students.
Merit Scholarship awards are specifically designated for private teachers to bestow upon their students. Private guitar, bass and drum teachers across the country may personally nominate two of their students to be awarded $500.00 each towards any of the National Guitar Workshop programs, and two other students to be awarded $250 each towards any DayJams program. Instructors should be aware that these are partial scholarships (25% to 50% of tuition).
Teachers may nominate any student who they believe meets the following criteria: The student must be passionate about his/her instrument, highly motivated and demonstrate a financial need. Students elected need not be advanced players; the scholarship is intended for dedicated students of all levels. They can be as young as 8 for the DayJams program, or as old as 80 for the National Guitar Workshop.
Since 1984, the National Guitar Workshop has awarded thousands of scholarships to distinguished students. David Smolover, President of NGW, said that "the Workshop wanted to reach out directly to teachers to enlist their help in finding deserving students across the country for this very rare opportunity."
National Guitar Workshop students will have the unique chance to study with the world's most accomplished musicians, and enjoy extraordinary access to top-level guest artists. This year's guest artists include John Scofield, John Petrucci, Tommy Emmanuel, Paul Gilbert, Steve Kimock, David Leisner, Martin Sexton, James Burton, Sonny Landreth and many more.
DayJams students will play in a band, write an original song, perform in a rock concert, and receive a recording of their live performance. In addition, they will be able to learn and improve their skills from renowned professional musicians and educators in a friendly and creative curriculum-based environment.
The National Guitar Workshop and DayJams strongly encourage students and teachers to take advantage of this tremendous opportunity. To apply, send us the student's full name to receive your scholarship certificate by the scholarship deadline of June 15, 2010. This information can be sent by email to agambini(at)guitarworkshop(dot)com.
For a complete list of dates, locations, guest artists and classes offered, please visit http://www.guitarworkshop.com and http://www.dayjams.com.
For complete scholarship details contact: Alex Gambini, Scholarship Coordinator, 800-234-6479 x 109 or Agambini(at)guitarworkshop(dot)com.
# # #