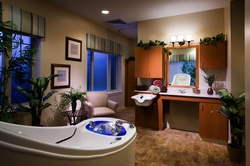 "In general, there are four broad levels of a person's mobility and there are matching levels of walk in bathtubs to best serve people with the four mobility levels."
Sparta, TN (PRWEB) May 22, 2010
One size does not fit all when it comes to walk in bathtubs. Rane Bathing Systems recognizes that people with mobility limitations have different physical challenges, different homes, and different tastes in decorating, too. "So rather than trying to fit everyone into the same walk-in bath tub, we've developed products that are as unique as the customers who buy them," says Jim DeKraker, President of Rane.
Previously, people with limited mobility had limited options when it came to the simple pleasures of enjoying a bath. Many were relegated to showers and they were unable to reap the physical and emotional benefits of a therapeutic soak. Others ended up in institutional settings because there were simply no walk-in tubs available for residential use.
So the people at Rane, pioneers in the creation of side-door tubs for healthcare facilities, used decades of design and manufacturing experience to create a full line of easy-access bathtubs for home use. "This can bring tremendous peace of mind to people who have limited mobility, themselves, as well as children who want to purchase a tub to ensure the safety of an aging or disabled parent."
Choice and Help Choosing
"Bathing problems, as much as mobility problems, can deprive people of the stay-at-home independence that so many of us take for granted," reports DeKraker. "That's why we're so proud of the range of options we provide in walk-in tubs, side access tubs, large tubs, and deep tubs."
The company offers six different models with a wide range of walk in tub standard and optional features including an Air Spa Bubble Massage Hydrotherapy System and a Whirlpool Massage Hydrotherapy System, and an Anti-Scald System, a popular safety feature.
Which one to choose? "In general, there are four broad levels of a person's mobility," says DeKraker. "And, there are matching levels of walk in bathtubs to best serve people with the four mobility levels." To help consumers make the right selection, the Rane web site provides easy-to-understand information and the 'Easy As 1-2-3 Selector Chart' that matches mobility levels with the appropriate tub.
There are also individual product pages that go into detail about each Rane tub, as well as quick reference guides that offer walk in tub technical specifications.
Water for Wellness
Water Therapy has been used for thousands of years by numerous civilizations to provide pain relief. It continues to be one of the easiest, most natural treatments for a wide range of physical ailments. Many studies show that hydrotherapy alleviates lower back pain and knee ailments by reducing stress and stiffness. Research conducted by the U.S. National Institutes of Health demonstrates that baths provide meaningful relief to people coping with all forms of arthritis, including Fibromyalgia.
"When you get into a tub of perfectly heated water, your body reacts to the warm water by creating endorphins, the body's natural pain killers," explains DeKraker. "The warm water warms your blood, which allows it to circulate better and dilates your blood vessels further increasing circulation. This means endorphins and oxygen flow more freely all over your body not only blocking pain but also bringing more oxygen and white blood cells to relieve inflammation, relax muscles, and promote cell renewal and healing."
"Customers may contact us to find an authorized dealer in their local area or to be put in touch with a factory trained, authorized Internet dealer who can provide up-to-the-minute information about all Rane products, installation and service."
For additional information on the full line of Rane Bathing System products, to view their promotional video, and to use Rane's 'Easy As 1-2-3 Selector Chart' please visit the company's website at http://ranetubs.com
About Rane Bathing Systems
Rane Bathing Systems offers of full line of walk-in bathtubs for homes as well as hospitals, rehabilitation centers and other types of care facilities. It is the only company in the industry with extensive experience in the design, development, and sale of walk in/slide in bathtub units for both residential and institutional customers.
###