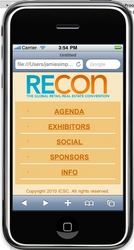 "We were so pleased with the success of this app that we asked Mobile Fringe to create an app for RECon, our largest conference," added McGuinness.
Las Vegas, NV (PRWEB) May 23, 2010
It's big. It's important. It's why RECon has chosen a purposely-built, mobile marketing app developed by Toronto-based Mobile Fringe.
An estimated 30,000 will attend RECon 2010, the global retail real estate convention, hosted by the International Council of Shopping Centers (ICSC) May 23-25 in Las Vegas. Many of those attending, represent the world's leading developers, retailers, brokers, financial institutions, product suppliers, service companies and municipalities.
"Mobile Fringe created an app for our Fusion Conference this past February in Chicago that provided our attendees with a tremendous amount of pertinent information in a streamlined and user-friendly manner, enhancing their on-site experience," said Tim McGuinness, staff vice president of global trade expositions for ICSC. "We were so pleased with the success of this app that we asked Mobile Fringe to create an app for RECon, our largest conference," added McGuinness.
Sorge Sorge, CEO Mobile Fringe added, "The ICSC, RECON mobile app will work on all smartphones, has the complete conference agenda, an exhibit floor map and details about the hotel.
"It also lists all of the exhibitors and sponsors. Attendees can stay connected with our social media tools - Twitter, Facebook and LinkedIn.. And, it even has GPS directions to the hotel."
Go to http://www.recon.mobilefringe.com/ on your mobile device for the mobile app.
"The real estate industry, specifically property managers and retailers are the core focus for our mobile marketing company," states Sorge. "We are very familiar with the business and marketing requirements of ICSC members, having worked with them previously. Furthermore, a number of member companies are also clients of Mobile Fringe. Mobile Fringe understands this segment better than any other mobile marketer."
Last year Mobile Fringe developed the Toronto Eaton Centre mobile marketing app for Cadillac Fairview. The Toronto Eaton Centre, located in downtown Toronto is one of Canada's most recognized shopping malls. Within the last couple of months Mobile Fringe launched a 2nd retail shopping mall app, this one for Oxford Properties and its prestigious Yorkdale Shopping Centre.
About the International Council of Shopping Centers
Founded in 1957, ICSC is the premier global trade association of the shopping center industry. Its more than 55,000 members in over 90 countries include shopping center owners, developers, managers, marketing specialists, investors, retailers and brokers, as well as academics and public officials. As the global industry trade association, ICSC links with more than 25 national and regional shopping center councils throughout the world. For more information visit http://www.icsc.org.
About RECON
RECon, the global retail real estate convention, is the world's largest gathering of industry professionals. In addition to the 30,000 attendees, the convention will feature over 1,000 exhibitors. The RECon brand has grown and now spans four regions: North America, Asia, Middle East and Latin America, bringing together the global shopping center industry.
About Mobile Fringe
Mobile Fringe is a mobile marketing and development company specializing in iPhone, Blackberry and Android. We will turn your visions into mobile realities and will not only design and develop a state of the art mobile app but will go to great lengths to make our clients ride this incredible mobile wave. Mobile Fringe's proprietary mobile marketing platforms allow its clients a fast time to market, mobile content management and incredible value.
If your company does not have a mobile marketing strategy, now is time to contact Mobile Fringe and join the revolution.
# # #