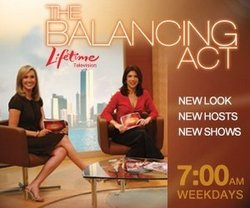 With Americans concerned with the rising cost of health care, the HSA is a proven method for reducing costs and putting more money in the pockets of people
Pompano Beach, FL (PRWEB) May 22, 2010
On this edition of The Balancing Act, we are bringing viewers some vitally important information about managing the rising cost of health care. We invited HSA Bank® to the show to talk about a plan that can help make sure that your family is covered.
Make sure you tune in to The Balancing Act, along with HSA Bank®, Wednesday, May 26th at 7:00am (ET/PT) as they air on Lifetime Television. Special guest Becky Seefeldt, from HSA Bank®, explains how help can come in the form of a Health Savings Account.
Becky says, "A Health Savings Account -- HSA for short -- is a tax-exempt account in which the funds add up to help you pay your medical bills. Basically, you enjoy tax reductions while having affordable health insurance premiums."
Becky tells viewers that this plan will help keep money in their pockets. With HSA Health insurance plans, you save even when you spend. You receive tax savings on the money you contribute, even if you need to spend it. If you spend $100 out-of-pocket, paying the expense out of the HSA costs you $100, but if you use after-tax funds it is like you are paying $128 for that expense.
HSA has many benefits; primarily that it's the only account on which you never pay taxes. IRAs and 401K are either taxed on funds going in -- or when taken out.
With Americans concerned with the rising cost of health care, the HSA is a proven method for reducing costs and putting more money in the pockets of people.
For more information visit, http://www.hsabank.com/act.
About The Balancing Act: The TV show airs on Lifetime Television at 7:00am (ET/PT) -- and is America's premier morning show that's about women, for women, and trusted by women. Celebrating life and all there is to accomplish, The Balancing Act inspires and empowers with entertaining and educational segments, placing women in the best position to achieve success in every area of their lives. For information or to view a show, visit http://www.TheBalancingAct.com. For the show's newsletter go to http://www.thebalancingact.com/join.php. For more details about The Balancing Act, LLC please visit parent company O2 Media Inc. at http://www.o2mediainc.com. For Media-Marketing Relations, contact Limor Windt, (954) 691-1102.
Follow The Balancing Act on Facebook, Twitter, and Youtube!
# # #