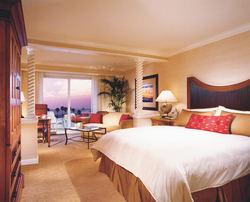 As an oceanfront resort, we are passionate about preserving the beautiful beach environment that surrounds us
Huntington Beach, Calif. (PRWEB) May 23, 2010
Hyatt Regency Huntington Beach Resort & Spa has officially 'gone green' after being named a Leadership Level Hotel, the highest level of program participation by The California Green Lodging Program. As a part of the state's Environmentally Preferable Purchasing efforts, The California Green Lodging Program was developed to provide travelers a green option for lodging by encouraging energy conservation and improved environmental consciousness.
"As an oceanfront resort, we are passionate about preserving the beautiful beach environment that surrounds us," said Cheryl Phelps, general manager of the Huntington Beach hotel. "We are thrilled to be named to the Leadership Level and will continue to maximize our efforts to keep minimizing our carbon footprint."
Leadership Level Hotels are required to achieve a minimum field survey score of 300 and have written environmental policies in place that meet all seven of the California Green Lodging Program's criteria. The criteria includes but is not limited to recycling, energy efficiency, freshwater resource management, and hazardous materials management.
Hyatt Regency Huntington Beach Resort & Spa is a member of the International Tourism Partnership which is dedicated to shaping tourism into a responsible, positive force for sustainable development, conservation and environmental protection. The Huntington Beach hotel and resort makes a special effort to recycle materials like, cooking oil, batteries, light bulbs, glass, and aluminum.
In addition, Hyatt Regency Huntington Beach Resort & Spa has made it a priority to only use energy and electricity in rooms and meeting space when absolutely necessary. Water conservation has been made a priority by reducing the amount of times linens and towels are changed from once a day to every three days and by using low-flow showerheads, sink aerators and toilet tank diverters. The resort also partners with Crazy Crayons and the National Crayon Recycling Program to make an effort to recycle crayons used by kids in the restaurant outlets. For media inquires please contact Jessica Ayers at 310.242.6190.
About Hyatt Regency Huntington Beach Resort & Spa
Hyatt Regency Huntington Beach Resort & Spa is located in the heart of "Surf City, USA," and features 517 tastefully appointed guestrooms, including 57 suites, offering guests sweeping views of the Pacific Ocean. The resort is also home to three restaurants, including The Californian, a AAA Four Diamond Award recipient, two lounges and more than 110,000 square feet of indoor and outdoor function space, the largest collection on the California coast. Additional resort amenities include a lagoon-style swimming pool and The Village, an eclectic shopping experience with everything from ice cream to surf memorabilia and fine art. Guests also enjoy year-round recreational activities such as biking and surfing by taking advantage of the sandy Southern California beaches via the resort's lighthouse bridge. A full range of treatments for women, men and children are available at the resort's 20,000-square-foot Pacific Waters Spa. For additional information or to make reservations, call (714) 698-1234 or visit http://www.hyattregencyhuntingtonbeach.com .
# # #