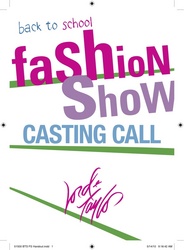 New York, NY (PRWEB) May 24, 2010
Get the kids excited to go back to school with a fashion show! Starting May 29, 2010, each Lord & Taylor store will be holding a casting call for their Back to School Fashion show taking place at all stores on Saturday, August 21, 2010. Find out the casting call date for your Lord & Taylor location at Lord & Taylor Casting
Bring in your children, ages 4 to 11 (sizes 4-16 in girls, 4-20 in boys), for a chance to be a part of the Back to School Fashion Show at your local Lord & Taylor. Guess Kids, Nina Kids, and Sperry Shoes are sponsors of the show so the kids are sure to feel fashionable and fabulous. Parents/Guardians need to bring one current color full-length or head shot photo and will be required to fill out an application when they arrive at the casting.
While each store's casting will be at different times, the Back to School Fashion Show will take place at all stores on Saturday, August 21, 2010 at 3p.m. Each child will get a chance to have his/her picture taken and featured on Lord & Taylor's Facebook page and website. You will also have a chance to win $150 kid's wardrobe – just in time for the new school year! Special events will be taking place between 1p.m. and 5p.m at each store so it will be a day of fun for the whole family.
Give the kids something to tell all their friends when school starts. You don't want to miss out on this great event. Check Lord & Taylor's website for your local Lord & Taylor's casting call time and get ready for a fun and fabulous experience. Fashion and fun for the family – the perfect end to Summer! Good luck!
About Lord & Taylor:
Lord & Taylor is an upscale specialty department store with 47 stores in nine states and the District of Columbia. Lord & Taylor has built a reputation for attentive customer service and high-quality merchandise focused on apparel and accessories. Founded in 1826, Lord & Taylor is America's oldest department store and one of America's premier retailers.
# # #