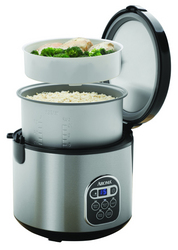 San Diego, CA (Vocus) May 25, 2010
As America's favorite rice cooker, Aroma knows what consumers expect: worry-free, restaurant-quality rice without the stirring, monitoring and burning that come from cooking rice on the stove. Aroma's newest digital rice cooker, launching this month nationally in Walmart stores, features advanced digital controls that exceed consumer expectations with just the press of a button.
Specialized functions for white rice and brown rice cook any variety of rice or whole grains to perfection. Restaurant-quality rice is as easy as 1, 2, 3: Add rice, add water, and press a button! The rice cooker automatically switches to keep-warm once the rice has cooked to perfection.
The addition of the steam tray allows for chicken and broccoli to be steamed while rice cooks below for a delicious, one-pot meal. Busy cooks have more time for family and friends while the rice cooker prepares the evening's meal.
Aroma's website, http://www.AromaCo.com, features a host of great rice cooker meal ideas as well.
The Aroma digital rice cooker also features all the functionality of a digital food steamer with a programmable steam function. Set the time for foods to steam from 5 to 30 minutes. The rice cooker will begin the countdown once water reaches a boil and automatically switch off once the set time has passed.
Perfect for families on the go, the Aroma digital rice cooker features a programmable 15-hour delay timer. Rice and water may be added in the morning and will be hot and ready once the hungry clan is gathered around the table at night.
Additional features of the Aroma digital rice cooker include an easy-to-use power button and a clearly visible cooking indicator light. The beautiful brushed stainless steel finish and brilliant blue LED lights are an excellent aesthetic addition to any countertop.
The Aroma Digital Rice Cooker can now be found nationally in Walmart stores for $39.88.
###