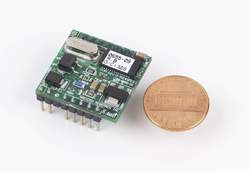 "The small footprint and ease of use of this Contact-ID support 56Kbps modem enables designers to provide connectivity to their applications in a very small space, adding value to products with its advanced communication features," said Alex Tsau, Vice Pr
San Jose, Calif. (PRWEB) May 24, 2010
Radicom Research, Inc., a leading designer and manufacturer of dial-up and wireless RF modems for Embedded Applications, announces immediate availability of its V92HM4-RC, a Contact-ID support Embedded Modem Module designed for Home and Business Security Alarm Systems.
The self-contained dial-up modem module supports Ademco's DTMF Contact ID protocol published by SIA (Security Industry Association). Utilizing standard DTMF tones, via proper AT Commands, an alarm system with V92HM4-RC modem inside can transmit an emergency signal to a monitoring station, the station generates a Kiss-off tone telling the communicator the tone has been received. After the Kiss-off, the modem then restores the telephone line for standard voice communications.
The V92HM4-RC provides an across the board compatibility of data communications between equipment designed to meet the "Contact ID" protocol regardless of manufacturers.
Measuring just 1.0" X 1.0" X 0.25", the modem has a built-in data pump, modem controller and on-board International DAA. The Serial TTL interface modem features –40oC to +85oC operating temperature. Its cost-saving line-in-use feature eliminates the need for maintaining a dedicated phone line in many applications. Other features include 3KV high voltage isolation (on selectable models), Caller ID type I and II, V.17, V.29 Fax Class 1 and Class 2, Telephone and TAM support.
"The small footprint and ease of use of this Contact-ID support 56Kbps modem enables designers to provide connectivity to their applications in a very small space, adding value to products with its advanced communication features," said Alex Tsau, Vice President of Operations for Radicom Research. "Our V92HM4-RC modem drastically simplifies the design process for data communications functionality, allowing manufacturers, designers and integrators to move products off the drawing board and into production more quickly."
The V92HM4-RC is ideal for use in the home and business security devices that are required to report emergency and routine coded signals to a central location. This 56K modem module is built for reliability, simple implementation and ease of integration for designers of security data communications networks.
Other Applications
The V92HM4-RC is IEC60601-1 (Medical Electronics) certified. It is also ideal for use in medical devices that require dial-up connection. The modem can also be used for Industrial monitoring systems, POS terminals, gaming devices, vending machines, remote monitoring and data collection systems, back-up communication systems or any small footprint device that needs to communicate data reliably with low power consumption.
Pricing and Availability
The V92HM4-RC is available now.
Prices begin at US$39.00 each for quantity of 100 pcs, higher OEM volume discounts are available.
About Radicom Research, Inc.
Founded in 1993, Radicom Research is committed to developing reliable, high-quality, simple to implement dial-up and wireless modems, competitively priced for OEMs, designers and industrial customers. Headquartered in San Jose, California, with offshore manufacturing capabilities, Radicom works closely with its customers to ensure their embedded data communications systems are successfully integrated at the lowest cost with the highest capability.
Radicom modifies its award-winning modems to meet specific application requirements, and designs custom communication products to fit special needs, maintaining the fastest turn-around time in the industry. R&D efforts are focused on raising performance standards for small footprint data-communication components embedded in applications across a spectrum of industries.
OEMs and designers are invited to contact Radicom Research for consultation on modems for embedded systems applications. Phone: 1-408-383-9006, ext. 112; Fax: 1-408-383-9007; Website: http://www.radi.com.
FOR INFORMATION CONTACT:
Alex Tsau, VP Operations
Radicom Research, Inc.
408-383-9006 x112
###