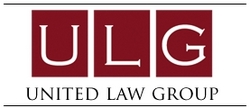 The firm fought the banks for over a year on our behalf
Irvine, California (PRWEB) May 25, 2010
United Law Group today announced that they have helped over 5,500 homeowners to date. The law firm continues to help homeowners get results on situations with their home loans, including permanent modifications, trial modifications, forebearances, and numerous extensions on sale dates. This national law firm uses every available legal channel to help the families and individuals it serves.
Juan Loera of Camino Island, WA, is one of thousands of homeowners helped. This general contractor ran a multi-million-dollar business before the economic downturn. His family home, which he purchased over 12 years ago on a fixed loan, was threatened when his business and his income were reduced to nothing. He turned to United Law Group so that he, his wife, and his three children wouldn't lose that home.
"The firm fought the banks for over a year on our behalf," stated Loera. "Thanks to United Law Group, our payment of $2,796.84 was reduced to $1,705.17. My wife went back to work and I've worked on smaller projects lately. That savings of $1,092 per month will allow us to remain in our home."
John Rubens and Lucia Garcia-Rubens found themselves in a similar situation. Having used their savings and credit cards to survive, the couple contacted United Law Group to help the save their home from foreclosure.
"Our payment was scheduled to reset within the next year and we desperately needed help," stated Mr. Rubens. "The banks made it impossible to work with them directly. When you go against Goliath, you need somebody with shields and weapons on your side. The staff at United Law Group gave us hope and helped us when we didn't think anyone could."
Garcia Ware retained United Law Group in February of 2009. He'd been laid off and the value of his home had plummeted.
"United Law Group worked for an entire year to get me a loan modification," said Mr. Ware. "Without the knowledge, skill and persistence of our legal team I don't know where we'd be."
"These stories are not unique," stated United Law Group Managing Director Robert Buscho. "There are thousands more homeowners just like them who have come to our firm when the banks abandoned the promises they made to the American people."
This news comes at a time when the United States Government has stated that the Home Affordable Modification Program (HAMP) has failed. On February 25, 2010, Ranking Members of the U.S. House of Representatives Committee on Oversight and Government Reform Darrell Issa (CA-49) and Jim Jordan (OH-4) published a report titled: The Treasury Department's Mortgage Modification Programs: A Failure Prolonging the Economic Crisis. The report tracks the history of the Obama Administration's foreclosure mitigation programs, focusing on the Home Affordable Modification Program (HAMP).
Calling federally-imposed mortgage modifications a "…questionable use of taxpayer resources …" the report focuses on "HAMP's failure to assist anywhere near the 3-4 million distressed homeowners to whom the Administration promised aid …"
"The executive summary of the report asserts that, 'HAMP has failed … HAMP may actually hurt more homeowners than it helps …' and even more distressing, 'Treasury is trying to hide the failure of HAMP,'" stated Mr. Buscho. "When a program of this size fails it calls into questions the policies and practices of the financial institutions that benefitted financially by pledging compliance with the terms that would assist distressed homeowners."
HAMP was tasked with helping 3 to 4 million homeowners avoid foreclosure in March of 2009. Numbers reported at the end of January 2010 show that the program helped less than 3% of homeowners it was told to help. Additional numbers are not available because the Treasury stopped reporting a key number in January, which means the public can no longer calculate the program's success or failure rate.
"Because of the intense resistance from banks to offer real solutions, United Law Group continues to file suits against banks, including several high profile cases against Bank of America and its subsidiary Countrywide Home Loans, JP Morgan Chase, and others," said Buscho. "When a client retains United Law Group we pledge to pursue every possible legal channel to come to their aid. We honor that pledge and the proof is in the number of homeowners who have received help from our firm."
About United Law Group
United Law Group represents consumers in complex litigation concerning abusive banking practices, breaches of contract and violations of state and federal laws. United Law Group also litigates cases involving bankruptcy, IRS settlements and debt settlements in state and federal courts across the nation. Employing a team of top-notch attorneys, United Law Group leverages leading-edge technology to manage cases, support investigative efforts and ensure accurate, frequent communication with its clients. The firm is currently forming several class action lawsuits.
# # #