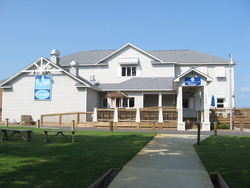 Aqua S Restaurant is excited about being open 7 days a week... we have a full bar and boast one of the largest wine lists on the Outer Banks"
Kitty Hawk, NC (PRWEB) May 24, 2010
Located on the Currituck Sound in Duck, North Carolina, the view from Aqua S Restaurant's patio is nothing short of breathtaking. In the summer months, the sun sets around 8p.m. General Manager Lynette Sumner suggests planning your dinner reservation accordingly.
Aqua S Restaurant offers seafood such as soft-shelled crabs, crab cakes, wild salmon, shrimp, scallops and sushi. Popular amongst both vacationers and locals are the organic vegetables hand-selected by 5-star Chef Kenny Sloane. Chef Kenny also serves up hot helpings of his very popular Sweet Corn Chowder with lump crab and organic truffle oil.
"Aqua S is a family-oriented restaurant, but is also perfect for a date night or get together with friends," said General Manager Lynette Sumner, "We're excited about being open 7 days a week so we can welcome even more old and new friends – we call them our peeps."
"We've added new menu items and have brought back our peeps' favorites," she continued, "We have a full bar and boast one of the largest wine lists on the Outer Banks."
"If you're looking for great wine, seafood, choice meats, organic vegetables and an even better view," added Chef Kenny, "then Aqua S Restaurant is the only place to be in the Outer Banks."
Fun facts about Aqua S: It's the only restaurant in the OBX and northern beaches that regularly offer a Sunday Brunch. Aqua boasts one of the largest wine rooms in all of the OBX restaurants. There is an expansive deck overlooking the Currituck Sound to watch the evening sunsets and to enjoy champagne or signature cocktails. Aqua S caters rehearsals, receptions anniversaries, family reunions, charity events, church gatherings and other special events. Aqua S offers a laid-back night life with live music nightly on the outside decks. Music starts at 7:00 pm. Aqua S offers tasty desserts like Key Lime Crème Brulee and Brown Sugar Bread Pudding. And Aqua S's Funnel Cake will nostalgically transport you to the State Fair.
Learn more about Aqua S Restaurant at http://www.AquaSrestaurant.com or call 252/261-9700 for a lunch or dinner reservation. Hours of operation are 11:30 am to 10:00 pm 7 days a week. Sunday brunch 10am.
###