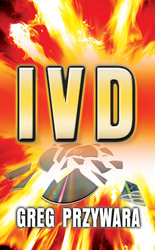 Right out of the gate, I gotta say that I really like this author's style and voice!
Madison, WI (PRWEB) May 24, 2010
AllBooks Review, an Internet-based group of literary critics whose reviews are featured on Amazon.com and Barnes and Noble.com, has picked Wisconsin cashier Greg Przywara's debut novel "IVD" as the number one mystery read for May 2010. http://www.allbookreviews.com/Default.aspx?tabid=564
"IVD" is the offbeat, darkly humorous tale of cashier and die-hard Chicago sports fan Mark Crizlanek and his wild misadventures with a gang of Mafiosos who are plotting to bkiw up a wealthy Bear fan's estate with an exploding DVD.
"Right out of the gate, I gotta say that I really like this author's style and voice!" exclaims AllBooks reviewer Jan Whitford. "And you get the feel of it right away when he describes flipping off a driver with a cell phone plastered to his ear in a traffic gridlock, a "fifteen-mile-long phone booth". Soon after, the rest of the story explodes--non-stop action peppered with a plethora of vivid descriptions mixed with snappy dialogue just bursting with humorous tongue-in-cheek contemporary satire. Well, by now you've probably guessed that I'm recommending this book, especially for readers who love good contemporary dialogue and tons of action. Geez, we even get Mafiosos who're capable of decapitating the statue of Harry Carey at Wrigley Field for Pete's sake. And during a real roller coaster ride of non-stop action, we're treated to a lawyer "full of mechanical regret", a homicidal school shooter, bullying cops, FBI pests, snarling pit bulls, dramatic fires, exploding DVDs, torrents of bullets, , silent-but-deadly flattulism, and even an obtuse connection with Al-Quaida. All this, Mr. Przywara deals out skillfully with his original literary style, weaved around ingenious sports allusions, betrayal and ultimately--redemption. Finally, I have a question. We all know that protagonists are good guys, right? That being the case, you think our hero will swab a guy's eyes permanently open with a Q-tip and Superglue, just to get information? Well, I guess you'll just have to read the book to find out."
According to Przywara: "The brainchild for "IVD" was conceived at, of all places, my grandfather's memorial service almost two years ago when he ran into my godfather, whom I hadn't seen in over ten years. As we discussed our mutual regret over our unnecessary estrangement, I simply could not get the theme from a certain Coppolla epic out of my head as the idea for a novel about a supervisor at a grocery store becoming involved with the mob began to form in my mind. The initial title was "Efficiency" and the original concept had the supervisor instituting a draconian speed scanning program in order to cover up a series of murders. I had barely completed the first chapter when I realized that it would be asking a little too much of myself to pursue such a toothless plot for a year or more and it would be a greater imposition to expect the reading public to digest such insipid blandness.
I had recently signed up with one of the major DVD rental services and was enjoying the convenience and the financial benefits while at the same time wondering if such a benign medium could be used as a weapon of mass destruction. Once this question was absorbed into the narrative, the rest was relatively easy. Most of the supporting cast were inspired by co-workers, classmates, and people in the news with very few changes from the real-life models. Trevor Gates can best be described as the fictitious evil twin of a very slick and manipulative high school friend who could con his associates into doing just about anything for spare change. Erik Stockton was inspired by Eric Hainstock, the notorious Sauk County school shooter. The bulk of the action is set on the Old East Side of Madison where I grew up. There is a tense confrontation with the police on the roof of East High, a harrowing brush with death in the Yahara River, and a fiery showdown at the Garver Feed Mill. My guiding rule until I completed the narrative in early 2008 was to keep potential readers and myself just as much on the edge of our seats as if we were watching an especially gripping action thriller while not making the situations too improbable." "IVD" is available in hardcover from Amazon http://www.amazon.com/IVD-Greg-Przywara/dp/1608601307/ref=sr_1_1?ie=UTF8&s=books&qid=1274565385&sr=8-1-catcorr and Barnes and Noble http://search.barnesandnoble.com/Ivd/Greg-Przywara/e/9781608601301/?tabname=custreview&usri=Greg%20Przywara
###