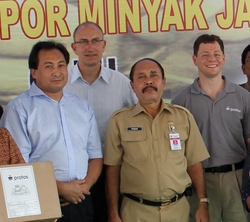 Waterland is working in synergy with the people and the elements of nature
Fleischmanns, NY (PRWEB) May 25, 2010
Indonesia based PT Waterland International has recently delivered the Bosch and Siemens Home Appliance Group's Protos Stove to local communities living near its Jatropha plantations in the region of Purwodadi – Central Java. Waterland will supply the Jatropha Oil to fuel the stoves.
Bosch and Siemens Protos is a stove powered by crude plant oil, which will be run on Jatropha Oil produced on Waterland's plantations. Dr. William Nolten, CEO of Waterland stated "I am extremely satisfied that the people who live and work around our plantations can enjoy cooking their meals on a safe and clean burning stove, powered by the Jatropha oil that our company produces. I am happy that we can give back to the local community and to assist our neighbors in becoming self sufficient in fuel energy."
Cleaner cooking = better health
More than 2.5 billion people around the world prepare their food on open fireplaces fuelled by firewood, plant residues and charcoal. This means emissions of hazardous concentrations of carcinogenic substances leading to various diseases, especially lung disease. The World Health Organization (WHO) estimates 1.6 million people die annually as a result of indoor air pollution caused by those fires. The Protos' clean burning technology has approximately 10 times lower emissions than high quality kerosene stoves, and greatly reduces fuel consumption, indoor air pollution, and carbon emissions.
Dr. Nolten, CEO of Waterland added "our company's success has as much to do with our technical knowledge and management expertise as it does with our business model which embodies elements of Economic, Environmental, and Social benefits. We pride ourselves on giving back to the community, by creating multiple jobs and helping to alleviate poverty. The jobs we are creating are helping to alleviate deforestation in the regions in which our company operates."
About Waterland International
Waterland is an agricultural technology enterprise with headquarters in Jakarta, Indonesia. The Company that has developed high yielding Jatropha plants which give a superior yield and oil content which is a result of years of research and development. Waterland is leader in Jatropha research and development in Asia and together with its partners have successfully established first class research and technology bases in Indonesia, Germany, The Netherlands, India, Vietnam and Malaysia that are accelerating the commercialization of next generation biofuels and renewable power generation. Combining agricultural and technological innovations, intellectual property rights and extensive hands on operational plantation experience, Waterland controls all aspects of Jatropha research, development, and cultivation, including bio-engineering, high tech conversion technologies, commercialization of valuable by-products and the processing of high grade biodiesel. The Waterland Group Asia was established to support a joint investment initiative by several European based companies who own and operate power-plants in Europe, which required sustainable bio-mass energy sources to operate. Waterland currently produces Jatropha oil from over 12,000 hectares that have reached production status and the Group currently has over 60,000 hectares of planted Jatropha that will come into production next year. The Group cornerstone is its social farming model where it endeavors to empower the local farmers with the aim of bringing prosperity, independence and self-sustainability to the communities surrounding the forest on a commercially sustainable basis.
About Bosch and Siemens (BSH)
BSH Bosch und Siemens Hausgeräte GmbH is a corporate group operating worldwide, which posted annual sales of about 8.4 billion EUR in the year 2009. It stemmed from a joint venture set up in 1967 between Robert Bosch GmbH (Stuttgart) and Siemens AG (Munich). Today, BSH operates 41 factories in 13 countries in Europe, the USA, Latin America and Asia. Together with a global network of sales and customer service firms, the BSH family is today made up of about 60 companies in almost 40 countries, with a total workforce of nearly 40,000 people. Within a comprehensive brand portfolio, the main brands are Bosch and Siemens. With its six special brands (Gaggenau, Neff, Thermador, Constructa, Viva and Ufesa). The company's actions and development are determined by a consistent policy of innovation and quality. One of BSH's most important principles is its determination to provide the consumer with genuine added value in terms of performance, convenience and user-friendliness by offering new products and developing existing ones. Underlying this is the conviction that driving forward new technologies not only generates a competitive edge and provides greater convenience for customers – but also benefits the environment. The transfer of know-how within the BSH Group serves to set global standards on the environmental protection front too. BSH is committed to the principle of sustainability, and thus to the responsible handling of resources. BSH is the largest manufacturer of home appliances in Germany and Western Europe, and one of the leading companies in the sector worldwide.
# # #