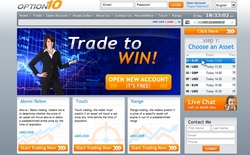 (PRWEB) May 25, 2010
TradoLogic, a leading binary options software provider, recently announced the launch of two new platforms designed for people interested in the online binary options market. BinaryOp and Option10 both offer the same binary options trading services and high level of support that users have experienced with TradoLogic's other platform OptionBit. While simple enough for new and amateur traders to start using right away, these two new platforms also include the full range of trading options and features professional traders have come to expect. Due to the success of OptionBit, TradoLogic has introduced these two new platforms in order to better service the growing binary options market worldwide.
BinaryOp Online Trading Platform
For those interested in online binary options trading, TradoLogic's two new platforms, BinaryOp and Option10, both feature the full range of services required to start trading online. The BinaryOp platform, available at BinaryOp.com , offers users all the most important methods including above/below, touch and range trading options. Users can open a new account for free and begin making online trades in an instant without any prior experience. While remaining a powerful and sophisticated trading tool, this platform is streamlined for the user's benefit making it accessible to anyone and everyone interested in binary options. Should the user have any problems getting started, support is available via live chat and other methods of communication.
Option10 For Easy Binary Options Trading
Likewise, the Option10 platform, available at Option10.com , offers the user the same trading options including above/below, touch and range. Once the user has opened a free account with Option10, he or she can begin trading online in an instant. TradoLogic's sleek platform makes it simple and easy to begin trading in just a few steps. As more and more people from around the world discover the rewards and simplicity of binary options trading online, the need for additional platforms and services has arisen. TradoLogic has seized on this opportunity to provide the highest standards in online binary options trading to the end user via multiple platforms such as BinaryOp and Option10.
About TradoLogic
TradoLogic is a leading binary options software provider. New and existing trading platforms like BinaryOp and Option10 are free to users from around the world. TradoLogic software is simple and streamlined for new users, yet powerful enough for the most experienced traders online.
###