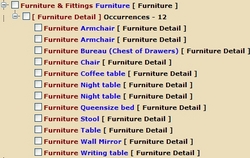 "The key is to make the process of archiving one's possessions as simple and painless as possible. Otherwise, people are not likely to keep their records current, and they could miss out on a good portion of their insurance benefit," says, Jan van Zyl.
Glen Allen, VA (PRWEB) May 24, 2010
It is the start of a new summer, which can bring devastating storms. Being prepared with an insurance policy can mean the difference between financial survival or ruin. However, insurance is only part of the puzzle. Where most fall short is in the ability to substantiate a claim when the need arises.
Unfortunately, there is not much incentive to maintain a list of every item in the home. Without a fill-in-the-blank structure to organize one's home contents, the task can be intimidating. The challenge is even greater when one owns multiple homes.
KeepTrackOfMyThings.com (KTOMT) – a private and secure online information vault – has been created to address all these issues and provide additional benefits from maintaining a catalog of all one's possessions and collections.
KTOMT stores and organizes sensitive information of any kind (securely and off premises) away from hazards and preying eyes. From account numbers to part numbers to digital images of certificates, auto registration and artwork, KTOMT stores it all, anonymously and privately.
The interface provides an expandable online form, providing control and organization at a level of detail chosen by the user. Notes can also be added to expand upon any item. To suit unique needs or hobbies, it can also be customized with help by the system's developer at no additional cost.
Email reminders provide timely, advanced notice associated with any item (e.g. motor vehicle inspection), renewal (e.g. insurance review) or selected event (e.g. passport renewal).
Because KTOMT is an encrypted, web-based application, every piece of information can be accessed with a private user name and password at any time and from any Internet connection in the world (including a web-enabled mobile phone). Any or all of the information can be emailed or printed to send to an insurance company as valid evidence to substantiate a claim.
Ultimately, KTOMT provides homeowners, hobbyists, and collectors a private, organized way to keep track of their possessions and maximize the insurance benefits they may have.
To learn more about KeepTrackOfMyThings or to activate a free account, visit https://www.KeepTrackOfMyThings.com.
About KeepTrackOfMyThings:
KTOMT is VSP Inc's response to the impact and demands of the information age on ordinary citizens. It was designed to help simplify the management of vital information that is too important to be ignored, floundered, or lost.
Contact:
Jan van Zyl
VSP, Inc.
804-381-8934
mailto: jvanzyl(at)KeepTrackOfMyThings(dot)com
# # #