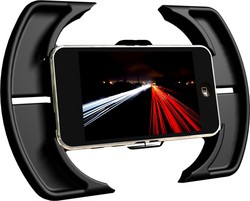 Daytona Beach, FL (PRWEB) May 24, 2010
PosiMotion is pleased to announce that the Helix, a gaming accessory for the iPhone and iPod touch, is now available in Best Buy stores. It can be found in the Best Buy Mobile section, as well as bestbuy.com ($19.99USD).
Helix has a grip-enhancing soft touch that vastly improves gaming performance. Both extremely light and portable, Helix offers a sleek aesthetic and ergonomic design for enhanced playing comfort and control.
Features include:

Compatible with iPhone 3G, 3GS and iPod touch 2G, 3G
Devices fit securely in portrait and landscape orientation
Comfortably wide handles for accurate steering control
Sturdy, durable construction
Simple wire management
Ideal for racing, first person shooters, action RPG's, flight simulators, side-scrollers... virtually any game.
Check out the new Helix video at: http://www.youtube.com/watch?v=Sew-IivonhQ
For more info about Helix, visit http://www.posimotion.com/helix
###