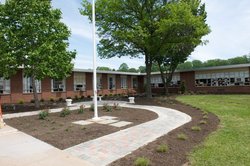 What started as a way to raise money for a new playground blossomed into so much more...
Odenton, MD (PRWEB) May 23, 2010
The students, faculty, administration and the PTA of Waugh Chapel Elementary School will host a ribbon cutting ceremony on Monday,May 24 at 9:30 AM to mark the completion of a beautification project designed to improve the appeal of the school grounds, create learning opportunities for students and provide fresh vegetables to local families in need.
The project was an offshoot of an effort to raise money to replace playground equipment at the 42 year-old school. Members of the PTA began by reaching out to local business and asking for donations of landscaping materials and other services. A number of local businesses contributed to the effort, including Nemetschek North America, Include Software of Glen Burnie, MD, Live Green Landscape Associates of Reisterstown, MD, Patuxent Nursery of Bowie, MD, and Country Springs Wholesale Nurseries.
With trees, flowers and other materials in-hand, a group of approximately 50 volunteers worked over several weekends to remove old landscaping and replace it with the new plants,shrubs and flowers. In addition, the volunteers also planted six Learning Gardens, one for each grade, K-5. These gardens will be cared for by the students and will yield vegetables that will be used to provide nutritious food to less fortunate families in the community.
"What started as a way to raise money for a new playground blossomed into so much more," said Kathy Powers, spokesperson for the Waugh Chapel PTA and Chairperson for the PTA's Playground Committee. "It was so rewarding to see the administration, the faculty, the parents and the students come together not only to raise money for a playground but to give back to the community in which we all live and work."
"The PTA, parents, local businesses, school personnel and students were all inspired by the calls of our President and First Lady to volunteer, give back to the community and help young people learn to make more nutritious diet choices," said Ms. Joyce Sims, Principal of Waugh Chapel Elementary. "This collaborative effort has accomplished all these things and at the same time transformed the entrance to our school from ordinary to breathtaking."
Despite raising close to $7,000, thousands more are needed in order to upgrade the playground. Those interested in learning more are encouraged to call the Waugh Chapel school office at 410-222-6542.
###