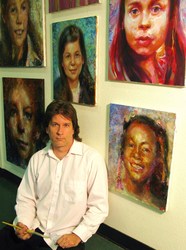 "We must continue to keep these children's memories alive always. There is always hope. And when hope seems lost, there is compassion for these children and the love they inspire."
Los Angeles (PRWEB) May 25, 2010
Artist John Paul Thornton paints portraits of missing children. For twenty years, he has carefully created hundreds of these paintings, inspired by their faces found printed on disposable fliers. They are colorful, expressive answers to the sad photos that most of us dare not look at. This year, in observance of International Missing Children's day, May 25th, Thornton is sending them out into the world. he is mailing his precious paintings to volunteers across the continental United States to raise public awareness about these children's stories, in a way that only art might be able to achieve. His goal is to have the paintings aid in the recovery of a missing child.
"This is a project that redefines the rules of what artists can do," says Thornton. "My portraits of missing children honor the most powerless members of society. I am mailing my paintings to volunteers I have never met. The volunteers will take these children's portraits directly into their communities, their schools, workplaces, libraries, local churches and temples. People will be able to touch the artworks, read about these personal cases and ask questions among themselves about child safety, our current legal system and the true meaning of family in the twenty-first century."
These volunteers, calling themselves "Guardian Angels," come from all walks of life. They are high school students, college students, adult professionals, parents, and grandparents. The one thing they share in common is their connection to activism through the world's largest online internet community for creative
people, "deviantArt."
Heidi Chambers, director of marketing at deviantArt headquarters in Hollywood, California, is impressed with the way artist members are responding to the Guardian Angel challenge.
"The Guardian Angel project is a perfect example of deviantArt's slogan, where art meets community.
John Paul Thornton has combined his raw talent and love for activism into an essential movement for change, culminating in the creative relationship between art and social empowerment. By calling on artists to perform similar actions across the nation and internationally, he has gone above and beyond to promote positive involvement at a neighborhood level."
Yes, Internationally. Artists from countries as widespread as Great Britain, Canada, the Philippines and Egypt are beginning to answer the Guardian Angel call to action. They are creating artworks of their own for public viewing, designed to provoke a greater awareness of the missing children issue.
Guardian Angel volunteers are already creating community-based exhibitions, education outreach programs and grass-roots publicity events to draw attention for the children depicted in Thornton's paintings, which are inspired by the images found indisposable fliers and on the website of the National Center for Missing And Exploited Children(NCMEC)
"This message and these efforts are not only relevant on Missing Children's Day," Thornton reminds us. "We must continue to keep these children's memories alive always. There is always hope. And when hope seems lost, there is compassion for these children and the love they inspire."
For more information about the missing children Guardian Angel project, and to see how the paintings are being displayed around communities in America, visit John Paul Thornton's blog: http://www.johnpaulthornton.blogspot.com
And his official deviantart website: http://johnpaulthornton.deviantart.com/
# # #