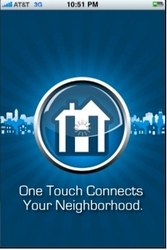 Palo Alto, CA/TechCrunch Disrupt, NY (PRWEB) May 24, 2010
DeHood Inc., the first location-based social network for neighborhoods, today announced the launch of a free real-time service that keeps people connected to what's happening in their own 'hood'. DeHood app, which is available for free from the Apple App Store brings together the community around local news, places, businesses, and enables real-time interaction between families, friends and neighbors. DeHood.com then reports the local buzz and other activity and information to all, locally. See video of what you can do with the app by visiting http://www.youtube.com/watch?v=16eHbKIVfHI.
DeHood helps users discover people, places, events and great offers in their locality, and enables a complete social network for shopping and places. For example, residents can find out what is going on around them before they leave their house, whether it's a traffic jam, the latest hot spot, the best deal nearby, or a local event to check-into. With an accurate check-in function they learn the location of their friends, privately message them, or follow the thoughts of other residents on how to make their 'hood a better place to live.
"DeHood is all about bringing people closer together locally to improve the overall experience for everyone in the neighborhood. Whether you want to feel safer, be more aware of all the great things happening around you, shop for a bargain, or simply get to know people near you better, DeHood puts your neighborhood in the palm of your hand, and connects you to who or what you need," said Babak Hedayati, CEO and founder of DeHood, Inc.
DeHood is the most comprehensive location-based service, combining content, promotions, gaming, and social networking tools. Main functions include:
Local Buzz: find out what's going on, report news and air your opinions. Post photos or use photos when you report news of what's happening around you, be it a traffic jam, an awesome baseball play or a sale. Filter your information by distance and topic.
Shop: save money at local stores and with major retail brands, share deals with friends on Facebook and Twitter. Play the real game of deal validation with your friends. Receive and cash in on Scratchies, interactive "scratch-off" deals discovered and served to users based on their location.
Places: check into venues, connect with people there and be rewarded with prizes and coupons through discovering our innovative Scratchies. If you aren't nearby, virtually visit locations and get a sense of what's happening, and go there later to check-in and be part of the action.
Change location: find out what's happening in another city like New York, San Francisco, Las Vegas - any city you might visit, and get local real-time information that you can act on, without physically having to be there.
People: stay in touch and exchange private text-like messages with friends and family or people that you want meet. You have control over your network. Create categories for people important to you, send them a friend request or just follow what's happening with the people around you. Not interested in connecting with certain people, simply block them.
To learn more about DeHood, visit the iPhone store, download the app, and create an account and check out a demo at: http://www.youtube.com/watch?v=J6eydRBiJlQ. You can also find out more at: http://www.dehood.com or follow DeHood on Twitter at @Dehood or on Facebook.
About DeHood
DeHood Inc. is the first location-based social network for neighborhoods. DeHood is a privately-held company based in Silicon Valley, founded by a team of entrepreneurs with extensive experience in creating groundbreaking social networking, ecommerce, mobile and consumer Internet businesses.
# # #