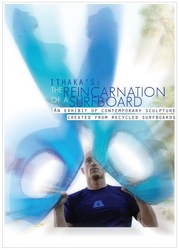 "This work is about giving new life to the discarded. As far as inanimate objects go, a surfboard has one of the most privileged lifestyles of any manufactured item in the world." ~ITHAKA
Costa Mesa, CA (PRWEB) May 27, 2010
INSPYRS announces "Ithaka's: The Reincarnation Of A Surfboard" - An Exhibit Of Contemporary Sculpture Created From Recycled Surfboards. Ithaka, the creator of these visionary sculptures will be exhibiting his "The Reincarnation Of A Surfboard" collection from June 5, 2010 through June 12, 2010 at The CAMP in Costa Mesa, CA, located in the SoBeCa District. An opening night special event will take place on Saturday, June 5, 2010 from 7-11pm.
California-born contemporary artist, vocalist, writer, photographer and surfer, Ithaka, began his immense body of sculpture work, "The Reincarnation Of A Surfboard" after accidentally breaking one of his own boards in half while surfing 18th Street Newport Beach back in the late 1980's, later restructuring and retexturing the destroyed board – recycling it into an extraordinary piece of wall-hanging sculpture.
Ithaka's early surfboard sculptures were simplistic, but strong in form and color, gradually evolving through the years in both complexity and texture. The finished pieces themselves do not have obvious surfing themes blurring the line of contemporary art and folk art, often incorporating clean minimalistic contours with metallic hues and easily found objects such as clothespins, bottle caps and branches. Today, twenty years and more than two hundred sculptures later, he continues using broken and abused surfboards as his primary raw sculpture material.
The Reincarnation Of A Surfboard is continuously evolving and has been exhibited worldwide including Europe, Asia, South America and throughout the United States. Ithaka's works have been featured in hundreds of magazines and television programs. A documentary released in 2006 focusing on the life and process of Ithaka and his works was written and directed by Susanna Lira called "The Road To Ithaka" and won the Best Script Award at the Brazilian FATU film festival in Sao Paulo.
"To me, completion as an artist is directly translating what is in your mind to however you are choosing to communicate the idea to others, regardless of what medium you are using, and hopefully not loosing anything in the process." -- Ithaka
As a vocalist Ithaka's five solo albums of melodic, travel-inspired, narrative hip hop music have been used in Hollywood feature films, an X-Box 360 game and have appeared in several surfing videos- including local director Timmy Turner's, Second Thoughts, which won the 2004 Surfer Poll Award for Best Video. The exhibition at The CAMP coincides with the release of Ithaka's latest cd, a "Best Of" collection of songs from his 15-year recording career and will be available at the exhibition.
This Orange County exhibition is being produced by Pamela Spyrs, founder of INSPYRS, a company based on showcasing the humanitarian efforts of talented artists and innovators. "Ithaka's art speaks to the earth. Its captivating beauty leaves one speechless," says Spyrs, "He is one of the most talented, dedicated and innovative artists of our time. We are thrilled to have such talent here in Orange County and for the opportunity to showcase his brilliant sculptures."
Sponsors of "Ithaka's: A Reincarnation Of A Surfboard" exhibition include The CAMP - A innovative retail community, The LAB - The "anti-mall", SoBeCa District - A Gateway to the "City of the Arts", Surf Story Project - 444 pages and 88 of the most inspirational and creative surfers in the world, HILLAS BEER - Imported Beer from Greece and Sweatlodge Records.
"Ithaka's: The Reincarnation Of A Surfboard" exhibition will be on display at The CAMP from Saturday, June 5, 2010 through Saturday, June 12, 2010. RSVP: INSPYRS public relations.
Press contact:
Pamela Spyrs
INSPYRS public relations
(562) 216-0095
###