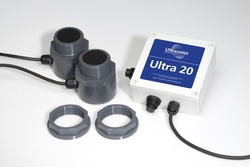 The biggest win for us has been its ability to maintain our boat's full performance and (reduce) fuel consumption over a full season.
(PRWEB) May 26, 2010
Ultrasonic Antifouling has appointed new dealer LeisureCat/AussieCat to further boost surging sales in its rapidly expanding Australia, New Zealand and Malaysia markets.
UK-based Ultrasonic Antifouling – which now sells its leading brand electronic antifouling technology in more than 50 countries – is steadily expanding its portfolio of products and distributors across the globe.
Fremantle-based LeisureCat/AussieCat was formed in 1998 to re-invent the power catamaran and offer a wide range of stylish performance multihulls. Its waterfront retail and repair facility provides high quality sales and service for popular Ultrasonic Antifouling products.
Many more marine firms in Australia, New Zealand and the Far East are expected to follow LeisureCat/AussieCat's lead and seize the opportunity to become Ultrasonic Antifouling dealers.
Ultrasonic Antifouling is the world's top brand of pollution-free electronic antifouling, using electronic sound pulses to help keep boat hulls free of algae and barnacles.
Its antifoul benefits include:

complete hull protection – improving long-term performance
faster hull speeds throughout the season
lower fuel bills
fewer costly and laborious lift-outs
less hull-scraping, repainting and antifouling removal
reassuring peace of mind, thanks to easy one-time 'fit and forget' installation involving no through-hull drilling.
The system protects the entire underwater hull, helping to keep stern gear, water intakes, bow thrusters, impellers and trim tabs free from growth.
Earlier this year Ultrasonic Antifouling was named Product of the Month with a resounding five-star MBY rating by the respected Motor Boat & Yachting magazine.
MBY carried out a season-long test of Ultrasonic Antifouling on its Storebro 31 Biscay Motala, praising the system's effectiveness: "The biggest win for us has been its ability to maintain our boat's full performance and (reduce) fuel consumption over a full season."
Ultrasonic Antifouling is the future of antifoul. It currently offers three models – the Ultra 10, the Ultra 20 and the Ultra Solar. Each system comprises a control box connected to either one (Ultra 10) or two (Ultra 20) transducers, depending on boat size and type.
The company also offers a customised design service for more complex installations involving superyachts and trimarans.
How does the Ultrasonic boat antifouling system work? Simple…

Transducers are bonded to the inside of the hull with no through-hull holes required. Careful placement is the key to success. Detailed instructions make this easy.
A control box sends pulsed ultrasonic signals to the transducer(s) which emit low power, high frequency sound waves that are virtually inaudible.
These sound waves create a wall of moving water molecules over the hull surface, killing algae and preventing barnacle growth.
While this technology is new to the marine market, it is well proven in preventing fouling on water intakes in lakes, ponds and reservoirs where its non-toxic qualities are essential.
To manage the system more effectively, Ultrasonic Antifouling has added some clever electronics; the new Ultra 10 Dual Voltage, the Ultra 20 Dual Voltage and the Ultra Solar.
Ultra Dual Voltage is smart technology that recognises the power supplies available and automatically switches to the best option, preventing the unit from being accidentally switched off.
If you have a pontoon berth and you remove your shore power, the system will automatically switch to your boat's battery supply, so the antifouling effects continue uninterrupted.
And when you return to your berth, the system will automatically switch back to shore power – making Ultrasonic Antifouling a 'fit and forget' no maintenance system.
If you don't have shore power or are on a swinging mooring, Ultrasonic Antifouling Ultra Solar allows you to reap the full benefits by controlling power between solar panels, the battery and transducer system.
Its intelligent solar unit keeps your battery in good health and provides the Ultrasonic Antifouling system with the correct amount of power.
With proven, non-toxic science, green credentials, and clever technology, Ultrasonic Antifouling is a permanent fit-and-forget answer to hull contamination – now even more widely available in Australasia through the experienced marine company LeisureCats/AussieCats.
Pricing for the Ultrasonic Antifouling Range
Ultra 10 System, single transducer - 1,796 AUD
Ultra 20 System, twin transducers - 3,366 AUD
Ultra 10 dual voltage System, single transducer - 1,954 AUD
Ultra 20 dual voltage System, twin transducers - 3,524 AUD
Ultra 10 Solar - 2,582 AUD
Ultra 20 Solar - 3,838 AUD
Solar Charger only - 903 AUD
For more information or to become a dealer, contact Ultrasonic Antifouling, +44 (0)1202 606185, http://www.ultrasonic-antifouling.com
Notes to Editors
Ultrasonic Antifouling is a revolutionary way to protect boats from fouling using high frequency, low power sound waves to destroy algae and prevent weed and barnacle growth. The system has been carefully researched and developed and is now being used with great success all over the world.
For further information, please contact:
LeisureCat/AussieCat, 14 Mews Road, Fremantle, Western Australia 6160
Tel: +61 8 9335 3877
Or:
Ultrasonic Antifouling Ltd, Arena Business Centre, Holyrood Close, Poole, BH17 7FJ, UK.
Telephone: +44 (0)1202 606185
For further press information, please contact:
Tina Mansell at The Mansell Agency
Telephone: +44 (0)1202 701705. Mobile: +44 (0)7973 850012
###