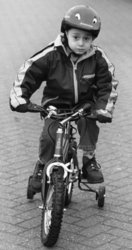 All of the children in our community deserve the opportunity to own a bike
Staten Island, NY (PRWEB) May 25, 2010
Decker, Decker, Dito & Internicola, LLP is pleased to announce that they will be giving away a new bicycle to a deserving child, age 6-12 years old, during this summer. The attorneys at the Staten Island law firm have seen through their practice that in today's difficult economic times, not every family is able to afford a new bicycle for their children. So they have recently decided with their staff to donate some bikes to a few deserving children, recommended to them by their clients and friends. Each month, they will be selecting a winner and will take them to a local bike shop, where they can choose from a selection of bikes that are the best fit for them.
The attorneys at Decker, Decker, Dito & Internicola, LLP are encouraging parents, teachers, relatives and friends to nominate a deserving child for a new bike. "All of the children in our community deserve the opportunity to own a bike," said Frank J. Dito, Jr., a partner in the Dongan Hills law firm. "We hope that our summer giveaway will give more kids a chance to spend the summer having fun and being active on their bikes."
If you would like to nominate a deserving Staten Island child, age 6-12 years old, tell the law firm in 150 words or less why the special child in your life should receive a new bike. You can e-mail your nomination to vgracia(at)dddilaw(dot)com, Re: Bikes for Kids, or mail your nomination to us, Attn: Bikes for Kids. The Staten Island law firm will be having giveaways in May, June and July so make sure to send your nomination in.
###