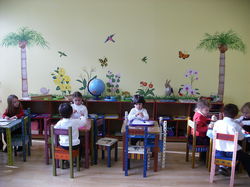 It is our duty as parents and citizens to educate our children about eco-friendly living and saving our precious planet.
New York, NY (PRWEB) May 27, 2010
Study after study has confirmed that global warming is already occurring and that it is caused primarily by human activities. More than six million children in America have asthma; this can be attributed to toxins found in our homes and the environment. The good news is that there are more and more resources for an eco-friendly lifestyle nowadays.
Here are tenTips from Christina Houri, Founder of Le Petit Paradis Preschool, to Make your Home or School Greener:
Switch to Non-Toxic Cleaning Products
Cleaning your home can be harmful to your health. Many common household cleaners contain toxic solvents, fragrances, disinfectants, and other ingredients that can pollute the air and cause respiratory, skin, and other reactions. You can use cleaning products that are non-toxic like Seventh Generation, Method, or even Chlorox has a new green line on the market, to maintain your school or home. You can also make your own cleaning supplies with simple ingredients such as baking soda, soap, and vinegar, they are cheap and easy, and they really work.
Organic paint
Indoor air is three times more polluted than outdoor air, and according to the EPA, is considered to be one of the top five hazards to human health. Paints and finishes are among the leading causes of death.
Paints and finishes release low level toxic emissions into the air for years after application. The source of these toxins is a variey of VOC's (Volatile Organic Compounds) which, until recently, were essential to the performance of the paint. Benjamin Moore has a new collection of eco-friendly paint called "Aura" which has very low VOC (Volatile Organic Compounds). A wide variety of colors are available.
Air Conditioning
You can install the comfortmaker HV/AC system R410A which has a non-ozone depleting gas.
Buy Furniture Made from Recyclable Material
Purchase furniture and classroom materials from a manufacturer that produces furniture with recycled materials. If tables and chairs are made from wood that is harvested from healthy forests and done in an environmentally friendly and sustainable matter, then your classroom will reflect a "green environment." There is a wonderful variety of items on-line. The internet is a wonderful tool for research!
Your Bathrooms
Use low-flow faucets, showerheads, and toilets. Did you know that each time a toilet is flushed, it uses five to seven gallons of water? If you can't afford to buy a low flush toilet, try putting a plastic bottle in your toilet tank. You can save one or two gallons per flush. Use a plastic juice bottle, or laundry soap bottle, and soak off the label. Fill the bottle with water, put on the cap, and place it in the tank. Be careful that the bottle doesn't interfere with the flushing mechanism.
New Flooring
Floors can be made with bamboo or cork which is a softer material. There is no question that bamboo is a renewable resource- it is a grass and grows very quickly.
Where oak takes 120 years to grow to maturity, bamboo can be harvested in three years.
Switch to Recycled Toilet Paper and Paper Towels
Kids are always spilling juice, but did you know that if every household in the U.S. replaced just one roll of 180 sheet virgin fiber paper towels with 100-percent recycled paper towels, we could save: 1.4 million tees, 3,7 million cubic feet of landfill space, and 526 million gallons of water, and prevent 89,400 pounds of pollution. Several companies make paper towels from 100 percent recycled paper.
Diaper Duty
Consider using cloth diapers. To sign up for a diaper service to do the dirty work, check out the National Association of Diaper Services for more information.
School Lunches Make-Over
Reuse containers and reduce waste. Did you know that one kid's average school lunch generates 67 pounds of garbage over a year: There are lots of ways you can cut back on lunch waste (and save money). When you go to the grocery store, buy food in bulk rather than single serving packages. Don't use plastic sandwich bags, instead use reusable containers.
Buy Organic Foods
For lunch or snacks buy foods that are organic, locally grown, and in season. Food that travels great distances takes a lot more packaging and refrigeration than food bought near where it grows.
We can start teaching children at home and at schools around the country how to help our planet survive. Several cultures teach children to respect the planet from birth, but in our fast paced society we've become far removed from where our food comes from, and the importance of recycling. At Le Petit Paradis Preschool in New York City, there are recycling bins in the classrooms and children get involved in the recycling process. Teachers ask questions like: "What do you think will happen to these objects you have put in the trash?" Parents at home can go also go thru recycling process with their children. Kids are remarkable sponges for information. They have curious minds, and limitless amounts of energy. Children can actually take a proactive part in saving the environment.
###