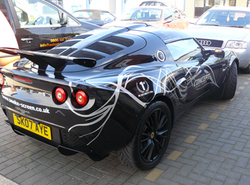 (PRWeb UK) May 26, 2010
Signs Express (Peterborough) creates some smoke with its latest vehicle graphics project.
Signs Express (Peterborough) has completed vehicle graphics for security company Concept Smoke Screen. The project, which initially consisted of a fleet of six vehicles including three Vauxhall Vivaro vans, a transit and a VW Caddy, involved a specialist approach to both the design and the application process.
Working with design agency Rusty Monkey, the Peterborough signage specialist needed to re-create the customer's vision which included an illustrative effect of their core security smoke screen product. This required a layering method of vinyl to create the appearance of smoke on the sides and backs of the vehicles by building one over the next; this included the application of white reflective vinyl, 800 series yellow vinyl, and Avery 800 series metallic grey vinyl to achieve the required effect.
Marketing assistant Dylan Hollick commented on the graphics: "On the recommendation of, Rusty Monkey, we recently commissioned Sign Express in Peterborough to implement the new branding across our fleet of engineers' vehicles. We successfully achieved this logistically difficult task thanks to the quality of service we received. The liveries themselves look fantastic, we even had our company track day car done, the Lotus Exige."
Signs Express (Peterborough) owner, Anne Hitch commented on the project: "We worked closely with the design agency to ensure that we could re-create the impression of smoke circling the vehicles as specified. By layering the vinyls we were able to add a whole new dimension to the graphics to help draw extra attention to the vans. Once finished we set to work on the graphics for the Lotus. The application process needed to be adjusted so that the vehicle graphics could fit the contours and the right-angled drop at the back of the car. It was a challenge but most importantly the customer was pleased with the end result."
Concept Smoke Screen is a security system of generators which are designed to act as powerful security smoke and security fog systems. Smoke Screen is designed to remove the primary sense of sight and in doing so defend property and defeat intruders and burglars.
Signs Express (Peterborough) is part of the UK and Ireland's largest sign and graphics franchise with 80 centres nationwide. Providing signs and graphics to its local B2B community, the Peterborough signage specialist can produce, print and install interior and exterior signs, vehicle and window graphics, banners and exhibition displays as well as health and safety signs and labels and stickers. To find out more, please visit http://www.signsexpress.co.uk/peterborough
Notes for editors:
1) For further press information, please contact Sarah Critoph at Signs Express. Tel: 01603 625925
2) Signs Express is a member of the British Sign and Graphic Association, the British Franchise Association and The International Sign Association.
3) For further information on Concept Smoke Screen please visit http://www.smoke-screen.co.uk.
###