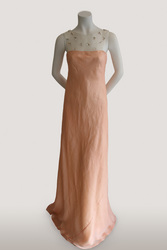 "I wanted to create a piece that speaks to the functioning optimism that is the eco fashion movement," says designer Katie Brierley.
New York, NY (PRWEB) May 26, 2010
Isoude, by designer Katie Brierley will present "The Eirene Gown" at the exhibit. The name Eirene, comes from the namesake Greek goddess who symbolizes peace and the coming of spring.
The silk used is a rare, lustrous reeled tussah, which is woven on antique looms in a small mill in India. The silk is then dyed by master dyer Cheryl Kolander. This luminous coral color is derived from the root of the Madder plant. This particular madder comes from the high valleys along the border of Afghanistan and Pakistan. Due to the intense fighting in the area, these plants had been abandoned for years, and have recently been dug up for use in natural dyeing.
The pearl appliqués are created by Master Jeweler William Elliot Drake who works with the Zanzibar Women's Shellcraft Cooperative. These women gather and refine the Mabe pearl to create jewelry and a sustainable business, which in turn enriches their lives. The normally discarded part of the Mabe pearl shell is used to create the delicate chevron shapes.
About Isoude
Isoude is a collection for women who appreciate style that is subtle yet compelling. Fresh and chic, Isoude offers women clothing that is both well appointed and soundly constructed. Founder and designer, Katie Brierley, produces the collection in a slow and sustainable manner to ensure the highest quality and craftsmanship in all of her designs. Described as "one of fashion's most exciting rising stars", her atelier in Newport, RI has been deemed "incredibly chic" by Vogue magazine.
In 2009 Katie was honored with an induction into the permanent collection at the Museum at FIT. The Eco Fashion Exhibit will be her second exhibit at the Museum.
###