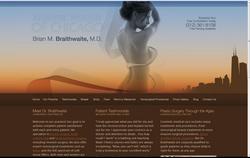 Chicago, IL (Vocus) May 25, 2010
Research released by the American Society of Aesthetic Plastic Surgery in March shows a 147 percent increase in cosmetic procedures from 1997. BOTOX® Cosmetic and Dysport® injections were the most popular non-surgical aesthetic enhancement treatments performed last year, while breast augmentation was noted as the most commonly performed surgical procedure. Dr. Brian Braithwaite, a plastic surgeon in Chicago, says one segment of the population seeking more and more cosmetic enhancement options is new mothers looking to reverse the physiological changes wrought by pregnancy and child-rearing. He says a new procedure at his practice, called the Mommy Makeover, works to address those changes.
Changes during pregnancy can affect the appearance of the breasts, face, thighs, and of course, the abdominal region. Dr. Braithwaite says weight fluctuations and the body's response to carrying a child, plus the physical effects of stress and exhaustion women often go through as their children grow, can often be very difficult to improve on one's own. Stubborn fat pockets and excess skin can be hard to get rid of even with vigorous diet and exercise regimens. Dr. Braithwaite says a Chicago Mommy Makeover can give new moms a combination of surgical and/or non-surgical cosmetic treatments to address a number of aesthetic issues, restoring their previous contours and helping them to look more youthful and vibrant.
A Mommy Makeover can include procedures such as a breast lift, breast augmentation, tummy tuck, liposuction, thigh lift, and/or injectable treatments such as BOTOX® Cosmetic. A breast lift in Chicago targets the excess skin and fat in the breasts that can give them a sagging appearance. The procedure eliminates the excess and gives the breasts a tighter, perkier appearance. Dr. Braithwaite says some new mothers go one step further by attaining breast implants to add volume to the bustline. In a Mommy Makeover, these procedures can be combined with a tummy tuck to improve the appearance of sagging skin in the abdomen for a more taut, fit-looking stomach area. Dr. Braithwaite says liposuction, one of the most common surgical methods for eliminating excess fat pockets, can be performed in virtually any area of the body. This can be helpful for new mothers who often experience fat deposits accumulating in the arms, neck, back, abdomen, waist, and other body regions.
Dr. Braithwaite says every patient is different, and new moms experience physical changes in very different ways. He says one common thread in his patients is that, although many of them view pregnancy and child-rearing as tremendous gifts, they find that they are less and less happy with their appearance after the rigors of the experience have taken their toll. Dr. Braithwaite says Mommy Makeover procedures - whether they include major surgical procedures such as liposuction and breast augmentation with implants in Chicago, or a combination of smaller, non-operative enhancement options - can do wonders for a new mom's self-esteem. However, Dr. Braithwaite says he talks thoroughly with his patients and counsels them on the risks and benefits of each procedure, reminding them that surgical intervention may not be necessary in some cases because some aesthetic issues resolve themselves naturally over time.
Overall, Dr. Braithwaite says new mothers deserve to feel great about their appearance, and Mommy Makeover procedures are one way of letting them know that, of all the sacrifices they may have to make during motherhood, the way they feel about themselves should not have to be one of them.
About Dr. Brian Braithwaite
Dr. Brian Braithwaite is certified by the American Board Plastic Surgery and is a Fellow of the American College of Surgeons. The founder and medical director of The Aesthetic Institute of Chicago, Dr. Braithwaite returned to the area after years of service in the United States Navy as a plastic surgeon at Bethesda Naval Medical Center outside Washington, DC. There he earned the rank of Commander and later served as the Chief of Plastic Surgery. Dr. Braithwaite trained in general surgery at Keesler Medical Center, Keesler Air Force Base, and completed his plastic surgery residency at the University of Louisville. While at Bethesda, Dr. Braithwaite treated many military service members injured in Iraq and Afghanistan.
For more information, The Aesthetic Institute of Chicago can be reached at 601 W. Randolph St., Chicago, IL 60661 – (800) 595-0615. http://www.drbraithwaite.com.
###