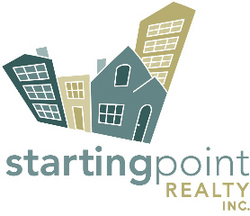 "They were more concerned about me feeling comfortable and being educated on the process than just running out and finding a place. Ryan and his team actually made the process enjoyable and stress free."
Palatine, IL (PRWEB) May 26, 2010
In mid May of 2010, Hannah McMinn closed on a condo in the Lakeview neighborhood of Chicago, IL.  It was a special occasion not only for McMinn, but for StartingPoint Realty, Inc., the real estate agency that helped her find her first home. Hannah was the firm's 100th client. Of those 100 clients, 95 were first-time homebuyers.
"I don't think any one firm in the country is as dedicated as we are to first-time home buyers, "says Ryan Gable, owner of StartingPoint Realty, Inc.
Believe it or not, StartingPoint is Ryan's first experience with real estate. His previous career was in logistics. "I just had this idea of how cool it would be to head a company that focused on such a monumental event in people's lives. It instantly became my passion."
With a little inspiration and drive, Gable got his broker's license, developed a business plan and a system for shepherding buyers through the process. "I leaned on a lot of people for help those first couple of years. It was on the job training and that's why I couldn't hire any agents at first - I needed to learn the ins and outs myself."  
What did McMinn think of her experience with StartingPoint Realty? "They were more concerned about me feeling comfortable and being educated on the process than just running out and finding a place.  Ryan and his team actually made the process enjoyable and stress free."
Today, StartingPoint Realty has a total of four agents and expects to hire two more by the end of 2010.  Unlike other real estate firms, it's quality, not quantity when it comes to hiring agents.  Gable is adamant about waiting as long as it takes to build the right team.
For the current tightly-knit staff, there's a consistent theme to everything they do. For instance, they believe in a complete immersion into the buying process for all potential buyers. From an informative website to weekly First Time Home Buying Seminars, the company is all about educating those new to buying a home, whether or not potential buyers choose to work with StartingPoint.
Wells Fargo loan officer James Madejczyk often jokes with Ryan, telling him that they operate like a non-profit agency. "It's not about the commission for Ryan and his agents - it's about the client, and that's refreshing," says Madejczyk. 
What's the statistic that Gable is most proud of?  "To our knowledge not one of StartingPoint's past buyer clients has gone into foreclosure or had to sell short.  We have a reputation of talking more people out of buying rather than talking them into it, especially when we know they aren't ready just yet," says Gable.
###