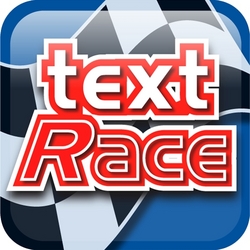 A lot of people think they're fast texters, but this game separates the pretenders from the contenders
Marina del Rey, CA (PRWEB) May 24, 2010
Fire up those texting fingers and prepare to do battle -- the ultimate texting throwdown is here. From the creators of the free, unlimited texting app textPlus, comes textRace, a no holds barred texting game that pits challengers against the clock in a test of speed and accuracy. textRace is free to download for the iPhone, iPod touch and iPad.
The premise is simple: a message appears in the app, and users must accurately retype that message to beat the clock. The faster and more precise they retype it, the more points they earn and levels they unlock. The app's speed clock and pounding music get the blood pumping, and the fiercest competitors can boast about their high scores by posting them to Facebook.
To get started, users ease into the action using Training Mode to practice. Once the thumbs are warmed up, users build up to Challenge Mode, where they sharpen their skills and shave seconds off their personal best. From there, the truly skilled move on to World Record Mode, where they test their talent against the very best.
"A lot of people think they're fast texters, but this game separates the pretenders from the contenders," said textRace textpert, Drew Olanoff. "With no autocorrect or predictive text, textRace challengers have to have legit skills to earn big. That said, even the rookies love it -- my own mom can't stop trying to beat her personal best."
Created by the founders of legendary gaming company JAMDAT Mobile, textRace also comes with the option to customize the app with themes like "Heavy Metal" and "Vampires," and lets users actually challenge the real-life world texting record time.
textRace comes from textPlus Labs, the gaming division of the developers behind the hugely popular textPlus app for iPhone, iPod touch, iPad and Android phones. textPlus lets you text one-to-one, in groups and in Communities, for free. Over 6.5 million people have already downloaded the textPlus app, and within the network of users, over half a billion messages are sent monthly.
textRace can be downloaded on the Apple App Store here: http://itunes.com/app/textrace
About textPlus Labs
textPlus Labs develops games and apps related to texting. Created by the gaming experts behind JAMDAT Mobile, which was acquired by EA, textPlus Labs combines the fun of games with the mass appeal of texting.
About textPlus
textPlus brings ad-supported real one-to-one, group and Community texting to the iPad, iPhone, iPod touch and Android phones through both its mobile application and textPlus short code. textPlus is carrier and Mobile Marketing Association (MMA) compliant and enables seamless interaction between textPlus application users and their friends using regular text messaging (SMS).
# # #