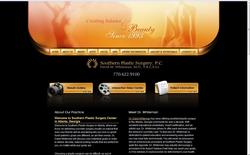 While plastic surgery can greatly enhance your look, it is not a 'one time, fix-all' solution
Atlanta (Vocus) May 25, 2010
Of the millions of Americans that opt for cosmetic and plastic surgery procedures each year, many overlook the importance of diet and exercise to a successful plastic surgery treatment plan. Dr Whiteman of Southern Plastic Surgery in Atlanta reminds patients that healthy eating habits and regular exercise are essential to proper recovery and maintaining the results of any cosmetic surgery procedure.
"While plastic surgery can greatly enhance your look, it is not a 'one time, fix-all' solution," said Dr. Whiteman of Southern Plastic Surgery in Atlanta. "I tell each of my plastic surgery patients that I will do my part in helping them to achieve their desired look, but they must do their part in practicing healthy eating and exercise habits to ensure they maintain the results."
Exercising regularly and maintaining a healthy weight is especially important for liposuction, tummy tuck, mommy makeover, breast augmentation, and breast reduction patients, as it is the only way to maintain results over time. But even with plastic surgery of the face, patients must take steps to maintain their health – such as quitting smoking – in order to facilitate proper recovery.
To reiterate the importance of healthy lifestyles and plastic surgery, Dr. Whiteman is launching a health and wellness section on southernplasticsurgery.com. The health and wellness section will provide patients with diet and exercise tips including: Tips for Diet Success, Common Diet Mistakes, Hidden Calories in Foods, Healthy Snacks, and a feature on how to correctly read food labels. The health and wellness section will also contain a section of healthy, low calorie recipes.
Dr. Whiteman was recently featured on an Atlanta episode of TLC's Ultimate Makeover – teaming up with personal trainer Daryl Madison of Lifestyle Fitness to highlight the importance of diet, exercise, and plastic surgery. Committed to total patient care, Dr. Whiteman made sure that featured patient Tami Magby lost 15 pounds, quit smoking, and committed to a health and wellness plan before performing her tummy tuck and liposuction surgery.
"I knew I owed it to myself to learn how to better care for my body," said Magby, Atlanta plastic surgery patient on Ultimate Makeover. "I am so thankful for what Dr. Whiteman, Daryl, and everyone from the show have done for me. I now look, and more importantly, feel good. I know I'll be able to better do all the things I did before because I'm physically more able."
Southern Plastic Surgery – Dr. David Whiteman
Southern Plastic Surgery was founded in 1993 by David M. Whiteman, M.D., F.R.C.S. Dr. Whiteman serves as the Chief of Plastic Surgery for Gwinnett Medical Center and is certified by the American Board of Plastic Surgery and the Royal College of Physicians and Surgeons of Canada. With a special interest in assisting women suffering from breast cancer, Dr. Whiteman created a "buddy system" for his breast reconstruction patients to discuss their journeys to recovery and also serves on the board of directors for The Sport of Giving, a women's cancer care and prevention non-profit organization.
Southern Plastic Surgery is an Atlanta-area practice specializing in cosmetic and plastic surgical procedures of the breast, body, and face. Patients considering procedures such as breast lift in Atlanta and other aesthetic and body contouring options can find more information about Southern Plastic Surgery and Dr. Whiteman at http://www.southernplasticsurgery.com.
###