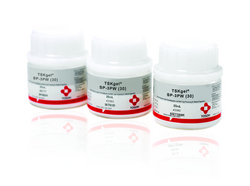 King of Prussia, PA (PRWEB) May 25, 2010
Tosoh Bioscience LLC, a provider of chromatographic solutions for biopurification, recently announced the introduction of a new line of TSK-GEL SP-3PW (30) resins for use in large scale purification of peptides and proteins. Packaging container volumes vary from 100mL up to 50L.
The TSK-GEL SP-3PW (30) resin is manufactured with a new production technology which yields a narrower particle size distribution. The 250Å pore of the particles is ideal for insulin and similarly sized molecules. The smaller pore size coupled with a higher ligand density account for the higher capacity over TSK-GEL 5PW resins.
The new polymer technology creates an additional selectivity tool for use by the developer for demanding separation problems. TSK-GEL SP-3PW (30) resins can be used for both polishing and intermediate purification process steps.
According to Al Jackewitz, marketing manager of process development resins at Tosoh Bioscience LLC, the new resin can be made in larger batches than the other TSK-GEL SP-5PW resins, and the new technology may be applied to other ligands in the near future.
The new resin is in inventory and now available for purchase.
TOSOH BIOSCIENCE LLC
Tosoh Bioscience LLC provides liquid chromatography products to laboratories and manufacturing plants in the Americas. While the majority of our customers are employed in biotechnology and pharmaceutical companies, our HPLC columns and systems are essential tools for sample analysis in most industries. Our dedicated size-exclusion HPLC system is predominantly used in the chemical and electronic industries. In the field of biotechnology, our preparative chromatography resins play a critical role in the purification of proteins and nucleic acids for medical purposes.
The company is a subsidiary of Tosoh Corporation in Japan, the parent of the Tosoh Group, which comprises 141 companies worldwide and a multiethnic workforce of over 10,000 people and generates sales of ¥827 billion (US$8.3 billion) annually.
For more information, please contact
Al Jackewitz
Biopurification Market Manager
Tosoh Bioscience LLC
484-805-1219
###