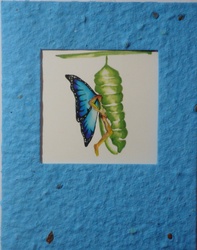 What could the Elephant Man possibly have to do with wilflowers?!
Vallejo, CA (PRWEB) May 26, 2010
Burning Bush has created a great alternative for those who aspire to become environmentally and economically guilt free in their approach to gifting. For those skeptics who have ridden off greeting cards as a waste producing loss of money (no pun intended) here's an opportunity to save some brain cells. Imagine being able to give two gifts in one – in the form of this saving grace. The card and envelope ensemble are plantable and will revisit its recipient with a blossoming reward season after season! No recycling bin or landfill needed, creating a renewed energy out of the traditional greeting card sentiment.
As cynical as it may sound VP Herb Edwards is not at all sarcastic yet takes delight in explaining the simplicity of how wild flower seeds actually do grow wildflowers.
Burning Bush has created a 'Blossoming Gift Experience' (card) series in honor of those who believe the essence of quality living begins within their connections to others. For the challenges that damper before strengthening, and the success realized in those defining moments of clarity. Burning Bush celebrates the emotions of life as an all inclusive experience. The original artwork makes you feel and riveting messages make you think, in conclusion blossoming season after season to remind you of what you thought and felt upon receiving the Burning Bush 'Blossoming Gift Experience'. For holidays or any day - Inspirational messages and illustrations transcend all cultural, gender and age groups barriers in celebration of the truly unpredictable and spontaneous natures of life. Expressions range from poetic to conversational, to personally humorous. Even our envelopes share the same germination properties - yes they grow flowers too!
Our motto is 'Don't be afraid to Grow'. He continues, "Simply plant the card and envelope, water and enjoy a blooming reward. Our eco-friendly products are made from recycled materials".
About Burning Bush:
It was The Elephant Man a 1980 drama film based on the story of Joseph Carey Merrick (a disfigured man tormented in a Victorian Freak Show), that gifted President, Tammi a glimpse into her own humanity.
The vulnerability and grace displayed by Merrick had left an undeniable impression that proved to be the encouragement Tammi would desperately need to survive the hand that life had dealt to her.
In 1991, Tammi achieved what she believed to be the impossible. The all grown up admirer of Merrick had given birth to a beautiful son! A celebratory moment that unveiled an unwavering truth," Our vulnerabilities should be honored not exploited"! She continues, and the courage to understand it – begins with heart".
###