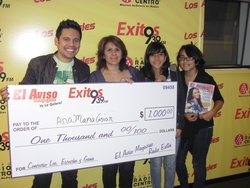 "While many magazines are closing shop, we're going cover-to-cover with major competitors in an expanded region," stated Jose Zepeda.
Santa Clarita, Calif. (PRWEB) May 26, 2010
Mexican immigrants to the United States don't always make it to the front cover of mainstream news media for the right reasons, so a small business venture which began making waves in the Hispanic community with its own news as "El Aviso" 23 years ago – is drawing attention in its newest venue on the air waves with a 14-week on-air promotion, "Futbol Fantastico," in conjunction with broadcast reports on soccer in South Africa.
Power Media Group Inc. - a thriving Hispanic-owned advertising agency skillful in building relationships and brands with the Hispanic consumers - created El Aviso tie-in with the World Cup, in collaboration with Radio Exitos 93.9FM.
For El Aviso to become involved in soccer as a means to increase visibility among the Hispanic community is logical: nearly 47 million Hispanics reside in the U.S. as the Census reports, and 85 percent have roots in countries where soccer is the dominant sport; beyond those numbers, there's the composition of the Major League Soccer fan base with 33 percent Hispanic.
"Futbol Fantastico" showcases Alfredo Dominguez Muro - founder and creator of ESPN Espanol - and his live daily World Cup reports from South Africa, and highlights El Aviso Magazine sponsorship. While drawing World Soccer Cup enthusiasts to the El Aviso name, Power Media Group is helping to grow top-of-mind awareness of El Aviso and to develop the ElAviso.com online audience.
Friday promotions provide a lucky winner with a $1,000 jackpot from El Aviso, helping community residents struggling with employment. Radio Exitos' 93.9 also airs the "Job of the Week" from El Aviso and will feature and distribute El Aviso Magazine.
El Aviso Founder and Publisher Jose Zepeda affirms his dream of creating a free magazine for his community seemed impossibly beyond reach in 1988, but with a half dozen employees in the back of a Huntington Park travel agency - without a printer, his vision took root. From 24 black-and-white pages, Zepeda admits the premier issue is far from the bright, colorful publication of today.
El Aviso now employs over 100 employees, many who have been with the organization since the beginning. Over 6,000 distribution points present 275,000 weekly copies, with a reach to over 4,000,000 Hispanic readers in 6 different zones around Southern California.
"While many magazines are closing shop, we're going cover-to-cover with major competitors in an expanded region," stated Zepeda.
ABOUT EL AVISO
Since El Aviso Magazine began publication in 1988, it has been published and distributed on-time and non-stop 52 weeks a year. El Aviso Magazine, managed by Jose Zepeda and his wife, Jessica Maes Zepeda, is provided free of charge to the public and reaches over 4,000,000 potential readers per month.
CONTACT:
Patricia Gracia
POWER MEDIA GROUP INC.
17960 Sierra Highway
Santa Clarita, CA 91351
PHONE. 661-505-1009
FAX. 661-430-5491
EMAIL: patricia(at)powermediagroup(dot)com;
http://www.powermediagroup.com/radio_elaviso.html
KEYWORDS: Advertising Agency, Spanish language campaigns, Hispanic market, Latin Business Association Sol Awards 2008, publishing industry, Hispanic Magazine
SOURCE: POWER MEDIA GROUP
###