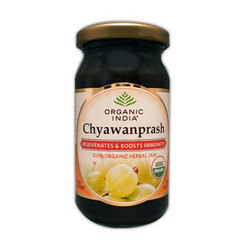 Chyawanprash provides a host of health benefits to everyone, of every age, in a single spoonful, by creating harmony in the body and improving metabolism
Boulder, CO (Vocus) May 25, 2010
ORGANIC INDIA, the makers of the "Original Tulsi Tea" have announced the introduction of 100% Organic Chyawanprash. Chyawanprash, India's "Elixir of Life" is an herbal jam made from wild forest fruits and a combination of 36 traditional Ayurvedic herbs.
"We are excited to introduce our 100% Organic Chyawanprash," announced Mr. Krishan Gupta, ORGANIC INDIA's Global CEO. "Chyawanprash provides a host of health benefits to everyone, of every age, in a single spoonful, by creating harmony in the body and improving metabolism" Mr. Gupta went on to say.
ORGANIC INDIA's Chyawanprash is available in an 8.8 ounce jar containing approximately 25 servings. Made from the traditional, authentic and nutritious Ayurvedic recipe, Chyawanprash is naturally sweet, using mineral-rich gur (organic cane juice reduced to syrup), organic raw honey which is added after the heating process, and organic ghee (clarified butter). Herbs include Amla, Cardamom, Long Pepper, Cinnamon, Haritaki, Guruchi, Cyperus, Purnarnava, Shatavari, Ashwagandha, and 25 others.
"We recommend consumers use Chyawanprash one teaspoon twice daily for maximum health benefits," Mr. Gupta explained. "In India, we traditionally mix Chyawanprash into a glass of warm milk, but Chyawanprash can also be spread on bread or crackers, mixed into a smoothie or eaten right from the jar."
Specific health benefits of Chyawanprash include supporting digestion, balancing metabolism, promoting the absorption of nutrients, balancing stomach acids, and smoothing heart function. Memory and coordination can improve through increased nourishment to brain cells. Chyawanprash supports the liver in purifying the blood and eliminating toxins, and can ease occasional constipation. Regular use can also improve skin complexion and the absorption of calcium.
As with all of ORGANIC INDIA's products, their Chyawanprash is made using sustainable farming techniques, fair labor practices and ethical wild crafting. ORGANIC INDIA's 100% Organic Chyawanprash can be purchased now at http://www.organicindiausa.com and will be available in grocery and health food stores this summer, 2010.
About ORGANIC INDIA
At the heart of ORGANIC INDIA is the commitment to be a living embodiment of love and consciousness in action. ORGANIC INDIA works with thousands of small family farmers in India to cultivate tens of thousands of acres of sustainable, organic farmland. All ORGANIC INDIA products promote health and wellness and are made with loving care. Each product you hold in your hands is one link in a chain of love, respect and connectedness between Mother Nature, the farmers, ORGANIC INDIA and you. By choosing ORGANIC INDIA you are actively participating in their mission to create a sustainable global environment, provide training and a life of dignity to the local farmers, and bring health and happiness to you.
To purchase products or for more information, please visit http://www.organicindiausa.com.
# # #