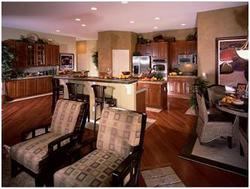 Aurora, CO (PRWEB) May 25, 2010
First-time homebuyers are often easily overwhelmed and confused when confronted by the enormity of the task at hand. Ryland Homes, the premier Denver home builder, is simplifying the process in May 2010 by offering advice, tips, "how-to's", services and answering frequently asked questions.
This beneficial process alleviates trepidation so future homeowners can relax and enjoy the much-anticipated, first-time buying experience. Ryland Homes has logged more than 30 years of expertise, helping over 230,000 satisfied buyers find their dream home--whether it's their first home or retirement home. Homes are built to suit various budgets and financial backgrounds.
This Denver new home builder provides useful first-time home buying tips by creating a "wish list" that breaks down their individual needs, desires and advice on how to choose a builder and explore the neighborhoods.
Ryland Homes Denver offers affordable new single-family home communities in traditional to contemporary styles with countless floor plan options. With homes starting at under $200,000 for 1,740 sq. ft. of space and up, homebuyers have the unique opportunity to customize their Ryland Home at one of two design centers. Professional interior designers are on hand to help select flooring, countertop and cabinet options.
Included with any purchase is the peace of mind of a 10-year Ryland Homes Warranty Program that contains one year wall-to-wall coverage, two years electrical, plumbing, heating, cooling and ventilation system coverage, and 10-year major structural defect coverage.
Denver homebuyers can also get help calculating their estimated monthly mortgage payments, prequalifying for a loan and even receive helpful design tips and ideas.
About Ryland Homes
Headquartered in Southern California, Ryland is one of the nation's largest home builders and a leading mortgage-finance company. Since its founding in 1967, Ryland has built more than 285,000 homes and financed more than 240,000 mortgages. The Company currently operates in 15 states and 19 homebuilding divisions across the country and is listed on the New York Stock Exchange under the symbol "RYL." For more information, please visit http://www.ryland.com.
###