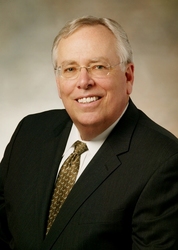 It has been personally and professionally gratifying to work with a great team to steer this organization, and the Aquarium has returned tenfold whatever I have contributed
Baltimore, MD (Vocus) May 26, 2010
As part of a seamless transition planning process suggested by Executive Director David Pittenger, the National Aquarium has formed a search committee to identify a new chief executive. Pittenger will continue as executive director during this search process.
Pittenger has worked with the National Aquarium for more than 25 years, with the last 15 as the executive director. "We'll be kicking off the Aquarium's 30th anniversary this fall, which has sparked a bit of soul searching on my part. For me, it's a perfect time to consider what else I would like to accomplish in my professional life and to explore other interests – both in and out of the aquarium field. I am looking forward to turning the Aquarium over to new leadership which will move the Aquarium towards what I am sure will be a bright future. "
The National Aquarium's size and reputation expanded significantly under Pittenger's leadership. During his tenure, the Aquarium built two new structures – the Marine Mammal Pavilion in 1991 and Animal Planet Australia: Wild Extremes in 2006. He also expanded its footprint in Baltimore to include the acquisition and clean up of a brownfield at the Middle Branch; and in Washington DC with the affiliation with the original National Aquarium in the Commerce building.
As well, Pittenger has guided the National Aquarium's evolution from being solely an economic engine and world-class attraction to being internationally respected for its innovative exhibit designs, animal care programs, and commitment to education and conservation.
"We have enjoyed working with Dave over the years to fulfill the key role aquariums play in communicating how to protect our planet and its inhabitants," says Julie Packard, executive director of the Monterey Bay Aquarium. "We look forward to continuing our collaboration with the National Aquarium toward our shared goals."
"Under Dave's leadership, the Aquarium has spent the last 12 months putting together a comprehensive financial plan which will underpin a very sustainable future," says William R. Roberts, chairman of the Aquarium's board of directors. "Dave and his team can be proud the Aquarium is in a great place from which to attract a new leader."
The Aquarium's next leader will move the Aquarium forward to accomplish an ever more demanding and important mission—raising a global voice for conservation. The search committee and board will work in close consultation with Pittenger to select a dynamic leader with a passion for its mission and the skills to identify the resources needed to lead the Aquarium into its next 30 years. Long-time board member Donald S. Pettit has agreed to chair the search committee, stating: "Forming a search committee, identifying qualified candidates, and defining a transition plan is a months-long process. Successful leadership transition happens when time is made to conduct a thorough search and to communicate all the steps along the way." A specific timeline for transition is not finalized, but the Aquarium anticipates having a new executive in place by the spring of 2011.
"It has been personally and professionally gratifying to work with a great team to steer this organization, and the Aquarium has returned tenfold whatever I have contributed," Pittenger continues. "As I look back, I am proud to have been associated with so many talented colleagues, volunteers, and community partners. I have been most fortunate to have worked with such a committed board. We have enjoyed the tremendous support of our city, state and federal leaders, who understand the National Aquarium's vital role as an economic engine, educational center and world-class attraction."
The National Aquarium is a non-profit, nationally recognized aquatic display, education and conservation organization with locations in Baltimore, MD, and Washington, DC.
Through transforming experiences, the National Aquarium inspires people to enjoy, respect, and protect the aquatic world. The National Aquarium is globally engaged in aquatic conservation from Chesapeake Bay to Costa Rica; a world-class entertainment attraction with engaging exhibits; committed to education with programs that connect children with the aquatic environment; a sought-after partner with alliances around the world; and the #1 tourist attraction in Maryland and unique in Washington, DC, with more than 16,000 animals in its living collections.
For more information about the National Aquarium venues, programs and impact, visit http://www.aqua.org.
###